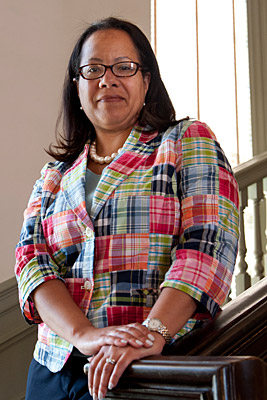 'Fever: 1793'
UD historian appears in documentary about Philadelphia's 1793 yellow fever epidemic
1:29 p.m., April 4, 2012--A horrific epidemic of yellow fever hit Philadelphia in 1793, killing 5,000 and causing many more to flee America's then-seat of government and largest city.
Erica Armstrong Dunbar, associate professor of history at the University of Delaware, is among the experts who provide commentary on the epidemic in "Fever: 1793," a documentary that will air at 7:30 p.m. tonight (Wednesday, April 4) on WPVI-TV, Channel 6, Philadelphia.
'Resilience Engineering'
The University of Delaware's Nii Attoh-Okine recently published a new book with Cambridge University Press, "Resilience Engineering: Models and Analysis."
Reviresco June run
UD ROTC cadets will run from New York City to Miami this month to raise awareness about veterans' affairs.
A specialist in 19th-century African American and women's history, Dunbar is the author of A Fragile Freedom: African American Women and Emancipation in the Antebellum City (Yale University Press, 2008). Recently, she was named the first director of the Program in African American History at the Library Company of Philadelphia.
The commercial-free broadcast by History Making Productions is part of the "Philadelphia: The Great Experiment" series, which is described on 6abc's website as "a multi-format historical documentary television film and Internet project that presents the story of Philadelphia, the single most compelling stage for the unfurling and testing of American ideals."