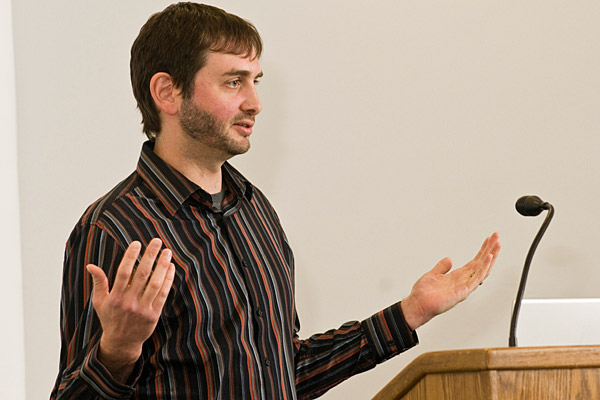 Yale exhibition
Pigford's wood type project featured in Yale Library exhibition
3:35 p.m., April 25, 2012--The Yale University Library will host an exhibition on the "Vista Sans Wood Type Project" -- a project initiated by Ashley John Pigford, assistant professor in the University of Delaware Department of Art, and artist Tricia Treacy -- from April 30 through Aug. 17.
The project includes letterpress prints by more than 20 artists and presses.
'Resilience Engineering'
The University of Delaware's Nii Attoh-Okine recently published a new book with Cambridge University Press, "Resilience Engineering: Models and Analysis."
Reviresco June run
UD ROTC cadets will run from New York City to Miami this month to raise awareness about veterans' affairs.
Pigford and Treacy were inspired by an interest in the intersection of old and new media, and used modern tools such as a Computer Numerically Controlled router to create traditional wood type of the digital font Vista Sans, which was designed by Xavier Dupre for Emigre.
A set of five letters, spelling the word "touch," and a set of paper were sent to the various participants. The final portfolio displays the wide variety of work being produced by letterpress in the field of contemporary book arts.
More information on the Vista Sans Wood Type Project can be found at the website.
Pigford, a UD alumnus and coordinator of UD's Visual Communications program, is an artist, designer, musician and educator. His cross-disciplinary creative work ranges from traditional "analog" arts to advanced digital systems in the interrogation of creative process and interaction design. His work manifests as electronic sculpture, interactive installation, performance, video, and letterpress printing. He received his master of fine arts degree in graphic design from the Rhode Island School of Design after a successful career as a proprietor of graphic design in Los Angeles.
Treacy, a lecturer at the University of Pennsylvania, received her bachelor's degree from West Virginia University and her master of fine arts degree from the University of the Arts in Philadelphia. Since 2000, she has been running a letterpress studio, Pointed Press, which creates custom book and print work for commercial clients.
More information about the exhibition can be found on the Yale University Library website.
Article by Andrea Muddiman
Photo by Duane Perry