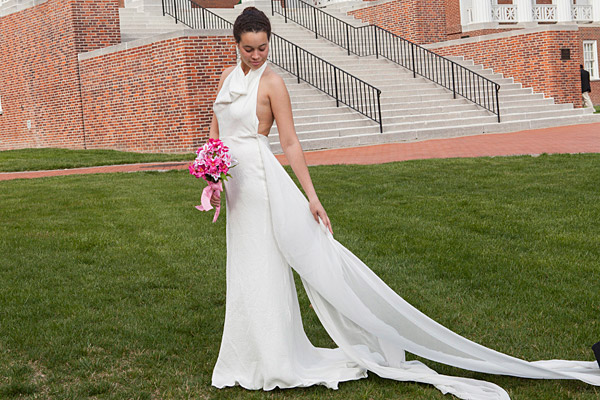 'Sew in Love'
UD students compete in wedding gown design contest
9:02 a.m., April 17, 2012--As University of Delaware fashion student Dara Jones began planning her wedding-themed senior collection, she did not anticipate using its focal piece in a local design contest.
On April 11, Jones and four other UD students participated in the "Sew in Love" fashion showcase sponsored by Philadelphia Wedding, part of Philadelphia Magazine.
'Resilience Engineering'
The University of Delaware's Nii Attoh-Okine recently published a new book with Cambridge University Press, "Resilience Engineering: Models and Analysis."
Reviresco June run
UD ROTC cadets will run from New York City to Miami this month to raise awareness about veterans' affairs.
The design contest brought together students from fashion schools in the Philadelphia area to showcase their own unique designs for wedding gowns.  Proceeds from the cover charge went to Wish Upon a Wedding, a charitable organization that grants weddings to couples with terminal illnesses.
Five students, including Jones, were selected from each university.  The other participants from UD included Lauren Pisarczyk, Margot Rubin, Samantha Wallace and Stephanie Zerbe.
Other participating universities included Drexel University, Philadelphia University, Philadelphia Art Institute, and Moore College of Design.  The winning student received the opportunity to design a young eveningwear line for Bridals by Danielle.
Jones, a senior from Newark majoring in apparel design and fashion merchandising, already had a dress design for the event, since a wedding gown was part of her senior collection titled "Sea Glass Trousseau." The collection also includes a rehearsal dinner dress and two designs for honeymoon outfits.
Jones said the idea of doing a wedding-themed senior collection came from research into the Chesapeake Bay beach town where she grew up.  She discovered that her former hometown, Betterton, Md., was once a popular 1930s vacation town that eventually lost its luster to other destinations.
Though Jones is unsure of the specific area of fashion she will enter in the future, she said fashion design has always been a fantasy of hers.
"It never lost its luster; it was never just a phase," Jones said.
Zerbe, a junior apparel design major from New Castle, said she always was interested in art and finds fashion involves "more complicated, wearable art."  She said seeing the artistry in fashion design helped her transition disciplines.
She said she took inspiration for her dress from styles of the past, looking at fashion in the 1930s and in the television show Downtown Abbey.  She said she chose to keep the dress simple and relaxed, a style she said she likes in general fashion as well.
"I had this idea that I wanted to do a princess theme dress, nothing cut-out or crazy," Zerbe said.
For Wallace, designing a wedding gown was a new experience.  A junior apparel design and fashion merchandising major from Milford, Wallace said she is exploring many types of fashion right now, looking to try different things before settling on one type of design.
She said she chose to design a gown that was "not very gaudy" and wanted it to be timeless instead of trendy.  She said she kept many of her own fashion choices in the design of the gown, including her preference for simple, classic silhouettes.
"I tried to design a dress I would want to wear," Wallace said. 
Article by Lauren Pitruzzello
Photo by Ambre Alexander