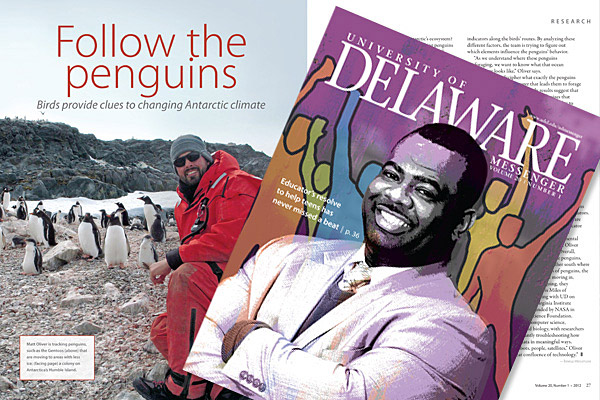 New UD Messenger
April issue of University magazine now available online
9:08 a.m., April 18, 2012--The current edition of the University of Delaware Messenger magazine, which is mailed to alumni, parents and friends, can be viewed online at this website, where an interactive PDF version also is available.
The Messenger contains news from the campus, including articles about faculty and student research and athletics, as well as profiles of UD alumni and their remarkable personal and professional accomplishments.
From graduates, faculty
As it neared time for the processional to open the University of Delaware Commencement ceremonies, graduating students and faculty members shared their feelings about what the event means to them.
Doctoral hooding
It was a day of triumph, cheers and collective relief as more than 160 students from 21 nations participated in the University of Delaware's Doctoral Hooding Convocation held Friday morning on The Green.
The new issue features a cover story about Tony Anderson, an educator who earned his doctorate at UD in 2011 and now is an adjunct faculty member in the School of Education as well as an administrator at a successful Philadelphia charter school. Anderson has inspired numerous youngsters over the years by using music, and particularly hip-hop, to motivate them to stay in school and pursue their goals.
A few other highlights of this Messenger are news about the online availability of all University yearbooks, dating back to 1899; the work that students in the Museum Studies Program are doing to assist small museums and historic sites in the region; the expansion and renovation of the Bob Carpenter Center; and a research project in which scientists are tracking penguins to learn more about climate change in the Antarctic ecosystem.
A special 16-page insert in the magazine provides detailed information about this year's Alumni Weekend, June 1-3, and how to register for the wide range of activities that will be available, from Mug Night to class and affinity-group reunions, tours, educational programs and special receptions.
Alumni profiled in the Messenger include a naturalist whose 35-year career at the Academy of Natural Sciences has featured expeditions to remote regions of the globe; two friends who met at UD and now run a successful restaurant in the trendy Manayunk neighborhood of Philadelphia; another pair of former classmates, one a bestselling young-adult author and the other her literary agent; an alumna who has had a diverse career in the Coast Guard, where she recently retired as a rear admiral; and an engineer who has won national acclaim for his role in developing new military explosives that are safer for soldiers to handle.