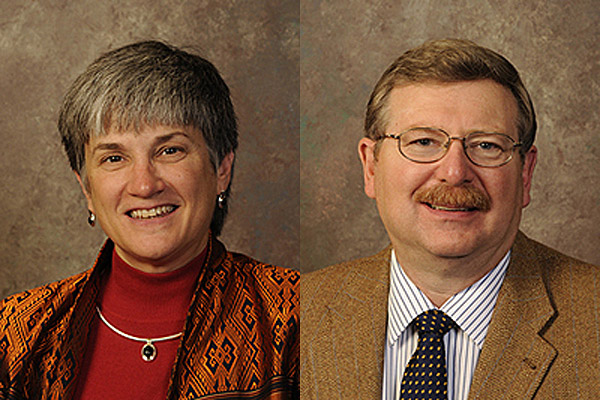 Classroom technology
School of Nursing professors use UD Capture technology to engage students
8:41 a.m., April 12, 2012--Kathleen Schell, interim director of the University of Delaware School of Nursing, originally had no interest in using UD's classroom recording system, UD Capture.
"I was a skeptic when it came to UD Capture," Schell said. "I didn't want to use it."
June 6: UDid It! Picnic
All UD faculty and staff members are invited to attend the annual UDid It! employee appreciation picnic, set from 11 a.m.-1:30 p.m., Monday, June 6, on The Green.
2FA protects you
If you are using two-factor authentication (2FA), even if a hacker has your password, your information is probably safe.
She feared that her students would skip class, and she also didn't want to lose face-to-face interaction. Wayne Voelmeck, assistant professor of nursing, convinced Schell to try it for the class that they co-teach and she said she has no regrets.
"I really think it's a good tool to help students who have to be absent, are struggling with the concepts from class, or just want to hear all or parts of the class again," Schell said.
Voelmeck began using UD Capture when he held a class in the Willard Hall Education Building. He teaches a work experience course that gives juniors the opportunity to participate in clinical placements outside of the classroom. Rather than trying to plan a class meeting around the schedules of multiple working students, Voelmeck decided to use UD Capture to deliver orientation information.
"It becomes a very effective tool to be able to orient people to a course," Voelmeck said. "We have a lot of material to present throughout the semester and we don't want to lose valuable time."
His recordings explain the objectives of the course and teach students how to fill out paperwork and upload assignments. He prepares slides and then reserves the self-service recording studio for an hour to create his recording.
Located in 309 Gore Hall, the self-service recording studio is an extension of UD Capture. The room offers a recording station, video connection for a laptop or a document camera, and a microphone. Faculty members can book the room by following the "Schedule time in Gore 209" link on the Gore 309 Self Service UD Capture web page. The video recordings are automatically posted online for student use.
When Voelmeck's students have a question about the orientation process, he refers them to the video and says that he will answer any additional questions later. The recording also allows him to deliver course information and policies before the semester begins, rather than using the first class day to review the syllabus.
"When they walk into class on the first day, we hit the ground running," Voelmeck said. 
Schell also uses UD Capture to record her classes for absent students, including athletes. She said that this system allows absent students to keep up with the students who attended class.
"They don't miss it, and they don't have to just get notes from other students," said Schell. "They can get notes, but they can also take their own notes if they look at UD Capture on their own time."
Schell also finds UD Capture to be a useful tool when she is unable to cover an entire topic during a class meeting. She can use the self-service recording room to make a recording of any duration to finish up something left over from a class session.  She also has recordings from previous years on each topic, so she can make those recordings accessible to her current students. 
Another way these professors use UD Capture is to ensure that all students are able to participate in exam review. Prior to each test, they hold review sessions containing a question and answer session and information about the topics to study. However, these sessions are held outside of class time, and the time isn't always ideal for every student.
"It's hard to schedule an out-of-class time that matches everybody's schedule," Voelmeck said. "To be fair to everybody, to give all students access to the review sessions, we decided to set up the sessions in a UD Capture-enabled classroom and record them."
In addition to UD Capture, Schell and Voelmeck also use clickers to quiz their students and increase participation.  They teach somewhere between 55 and 110 students, so the clickers enable them to reach more students during their 8 a.m. class.  They also use clickers to gauge learning and find out what information the students remember from previous semesters or who has personal experience with a specific disease.
Voelmeck said clicker quizzes are easier than hand-written quizzes because there are no materials that need to be passed out. He also likes to give the quiz during class so he can review the correct answers with his students.
Schell appreciates the way that clickers connect with other technology that she uses.
"The other really nice thing for faculty is that clicker scores are Sakai compatible," Shell said. "You can transfer your clicker scores without manually entering grades."
Schell said the elimination of hand-grading is one feature of clickers that appealed to her. She also thought that clickers would make participation fun and include all students, as opposed to just those who sit in the first couple of rows.
"This way, if people are not comfortable speaking in public, they still can add their two cents," Schell said.  "I think it really engages the people who are very outgoing, as well as those who would like to not talk in class."
The 8-10 question quizzes allow Schell and Voelmeck to determine if students understand the material that was just discussed in class.  The quizzes also give students feedback about what they need to review.
Schell said that clickers have transformed the classroom environment by allowing more students to participate anonymously. Her students enjoy seeing the real-time histogram results on the screen and comparing their answers to their peers' responses.
She suggests visiting IT-Academic Technology Services (IT-ATS) or attending some of the sessions at the upcoming Summer Faculty Institute to find out how other faculty members have used new technology innovatively.  
"People are very creative on this campus," Schell said. "We have great teachers and researchers."
Article by Julie Becker