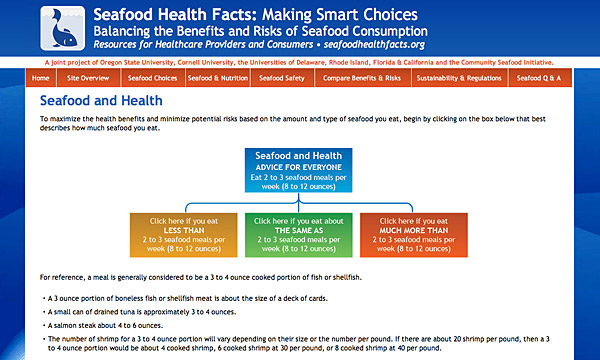 Seafoodhealthfacts.org
New web tool provides individualized guidance on seafood consumption
10:54 a.m., April 2, 2012--As tasty as crispy crab cakes or spicy sashimi may be, many diners get mixed messages about the benefits and risks of eating seafood. Sorting through numerous guidelines can lead some to avoid seafood altogether. That can be a mistake: Seafood helps reduce heart disease risks in adults and improve eye and brain development in children.
A new web tool can assist users in figuring out whether they are eating the right amount of seafood based on their current consumption levels, where they get their seafood and other considerations.
From graduates, faculty
As it neared time for the processional to open the University of Delaware Commencement ceremonies, graduating students and faculty members shared their feelings about what the event means to them.
Doctoral hooding
It was a day of triumph, cheers and collective relief as more than 160 students from 21 nations participated in the University of Delaware's Doctoral Hooding Convocation held Friday morning on The Green.
"The interactive guide takes a tiered approach to presenting the variety of issues that a consumer might want to consider in meeting the U.S. Dietary Guidelines for Americans," said Doris Hicks, seafood technology specialist with the Delaware Sea Grant College Program (DESG). 
First the tool asks users whether they are eating less than, the same as or more than the two to three seafood meals recommended per week. Next, users select whether they eat fish from stores and restaurants or fish they caught themselves and whether they are pregnant, breastfeeding or have young children. The answers lead to customized advice on how much seafood to eat, which types to eat in moderation and other tips. 
The tool can be found on the homepage of seafoodhealthfacts.org, which Hicks helped develop last year in partnership with the U.S. Department of Agriculture and several universities. The site provides health care professionals and the general public with straightforward, science-based information about the pros and cons of including seafood in a balanced diet.
The new feature of the site is the product of a conference that Hicks organized at UD last fall for dieticians, nutritionists, seafood professionals, environmental scientists and health care professionals. Participants reviewed important issues related to seafood consumption and aimed to help consumers better understand and balance the benefits and risks for their own level of consumption.
In addition to the Delaware Sea Grant College Program, the project is supported Oregon State University, the University of Rhode Island, University of Florida, University of California, and Cornell University and funded by the U.S. Department of Agriculture.
Article by Teresa Messmore