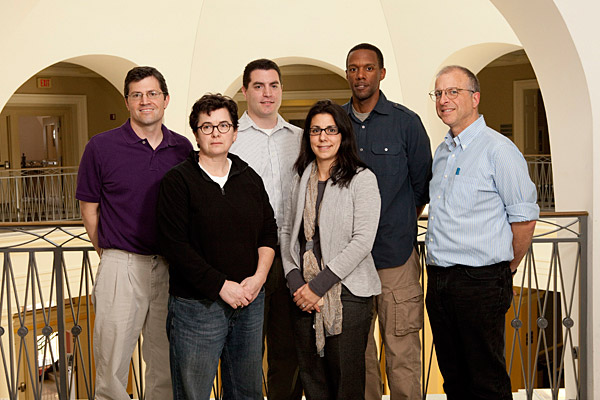 Research instructional grants
Nearly $56,000 awarded to support course-based undergraduate research
10:38 a.m., April 2, 2012--Five academic programs on the University of Delaware campus have won instructional grants to promote a broad expansion of undergraduate research and scholarship via a course-based approach.
UD's Center for Teaching and Assessment of Learning (CTAL), a programmatic collaboration between the Center for Teaching and Learning (CTL) and the Office of Educational Assessment (OEA), working in concert with the Undergraduate Research Program (URP), awarded the grants, which total nearly $56,000. 
Chronic wounds
UD's Millicent Sullivan and Kristi Kiick have received a $1.4 million grant from the National Institutes of Health for research that could provide a new approach to the treatment of chronic wounds.
Prof. Heck's legacy
The American Chemical Society is highlighting the legacy of the late Nobel laureate Richard Heck, the Willis F. Harrington Professor Emeritus of Chemistry at the University of Delaware with a digital tribute on its publications website.
The awards are designed to support the University's continuing goal to provide "a diverse and stimulating undergraduate environment," a major milestone in UD's Path to Prominence.
The grant recipients and their programs include: 
The instructional grant projects will foster the development of course-based research experiences that center on the following student learning goals: students will understand how new knowledge is generated and disseminated through scholarship; students will articulate scholarly questions; or students will create an original scholarly or creative project.
"These course-based instructional grant awards build on and extend the strong one-on-one research experience of students working with faculty, and they will expose a greater number of students to research," said Lynnette Overby, faculty director of URP.  "Such projects will engage students in a high-impact educational practice that incorporates writing and analytical thinking and correlates with high levels of student performance."  
CTAL, in collaboration with URP, will support faculty by providing models of course-based undergraduate research and by developing rubrics to assess students' learning outcomes. 
In addition, the grants may provide a venue to examine students' ability to "think critically to solve problems" by applying the UD modified Association of American Colleges and University's VALUE rubric, according to Deborah Allen, faculty director, CTAL.