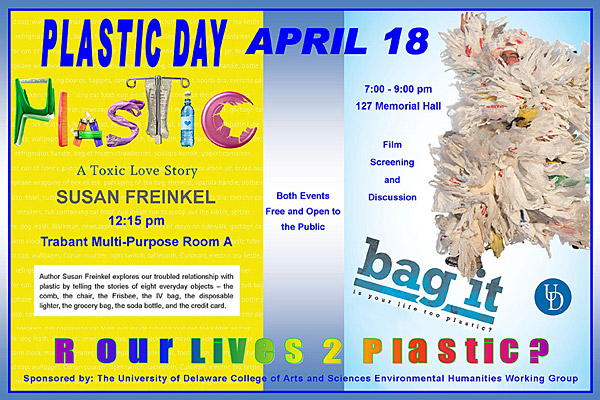 April 18: Plastic Day
Earth Week activities open with day devoted to issue of plastic
12:17 p.m., April 12, 2012--The question of whether our lives are too plastic will be the focus of attention on Wednesday, April 18, when a series of activities will kick off Earth Week at the University of Delaware.
The day will feature a talk and a movie about plastic, the material that defines so much of modern life, sponsored by the Environmental Humanities Working Group in the College of Arts and Sciences. All events are free and open to the public.
From graduates, faculty
As it neared time for the processional to open the University of Delaware Commencement ceremonies, graduating students and faculty members shared their feelings about what the event means to them.
Doctoral hooding
It was a day of triumph, cheers and collective relief as more than 160 students from 21 nations participated in the University of Delaware's Doctoral Hooding Convocation held Friday morning on The Green.
Author Susan Freinkel will talk about her book Plastic: A Toxic Love Story, beginning at 12:15 p.m. in Multipurpose Room A of the Trabant University Center.  Freinkel also will participate in a discussion of the documentary film Bag It, to be shown at 7 p.m. in 127 Memorial Hall.
Freinkel's book explores our troubled relationship with plastic by telling the stories of eight everyday objects—the comb, the chair, the Frisbee, the IV bag, the disposable lighter, the grocery bag, the soda bottle and the credit card. Each helps us to understand "what it means to live in Plasticville, enmeshed in a web of materials that are rightly considered both the miracle and the menace of modern life," Freinkel says. Her book ultimately helps readers envision a healthier relationship with a material that is both loved and hated.
Bag It is the story of "everyman" Jeb Berrier, who begins to think about plastic when his town and a neighboring town have a competition to reduce their consumption of throwaway bags. Berrier soon finds himself obsessed with figuring out the complex consequences of a plastic-crazed world.
"Plastic and Bag It both are provocative, witty and often laugh-out-loud funny despite the seriousness of the topic," said Adam Rome, UD associate professor of history and co-director of the environmental humanities group. "We think the talk and the film will spark lively discussion, and we are delighted that Plastic Day will kick off Earth Week this year."
The audience discussion of Bag It will be moderated by McKay Jenkins, Tilghman Professor of English and author of What's Gotten into Us? Staying Healthy in a Toxic World. Susan Strasser, Richards Professor of American History and author of Waste and Want: A Social History of Trash, will join Freinkel in reflecting on the film.
Freinkel, who lives in San Francisco, has written about science and health in the New York Times, Discover, Smithsonian and Reader's Digest. Her first book, American Chestnut: The Life, Death, and Rebirth of a Perfect Tree, won a National Outdoor Book Award. Bag It was shown nationally on PBS in 2011 and has won awards at numerous film festivals.
Poster designed by Angela Hoseth, curator, UD History Media Center