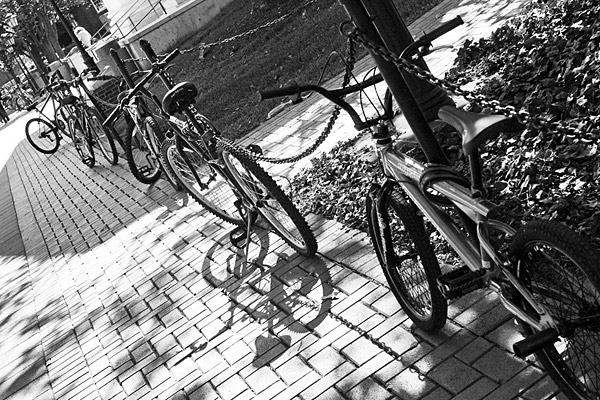 April 11: Newark Bike Project
Sustainable bike project featured at Green Liaison lecture in Perkins Gallery
8:52 a.m., April 11, 2012--The Newark Bike Project (NBP) will be the focus of a University of Delaware Green Liaison Sustainability Lecture scheduled for Wednesday, April 11, from noon to 1 p.m., in the Gallery at the Perkins Student Center.
Niki Suto, founder of the NBP, will speak about this local community bike project.  The NBP's mission of education and community empowerment is concentrated on do-it-yourself learning about bicycle maintenance as a way to encourage the sustainable practice of biking, and is affiliated with the Urban Bike Project of Wilmington. NBP operations are based on generous donations from the community of bicycles, skills and time
June 6: UDid It! Picnic
All UD faculty and staff members are invited to attend the annual UDid It! employee appreciation picnic, set from 11 a.m.-1:30 p.m., Monday, June 6, on The Green.
2FA protects you
If you are using two-factor authentication (2FA), even if a hacker has your password, your information is probably safe.
"Bicycles are versatile tools that accomplish more than just transportation; they are a means of bringing the community together, making neighborhoods friendlier, and enhancing learning skills about maintaining what you have," Suto said.
NBP holds open shop hours when anyone can come in and use communal tools to fix or maintain bikes. Knowledgeable volunteers are available to assist. Additional programs held at NBP are basic mechanic classes and community workshops. Youth programs are being planned for the summer as well. 
The NBP has been operating since December and has assisted hundreds of University and community members. Volunteers are needed to perform tasks ranging from working on bicycles to spreading the message. The NBP website is NewarkBikeProject.org. The NBP open shop hours are from Tuesdays from 6-9 p.m. at 318 South College Avenue. For more information or to volunteer, contact the NBP via email at info@newarkbikeproject.org.
Green Liaison Sustainability Lecture Series
Once a month, Green Liaisons are invited to attend a lunchtime presentation on the small steps that can be implemented by every student, faculty and staff member in order to make UD a greener place to learn, work and live.  
All lunches in the Green Liaison Sustainability Lecture Series are open to Green Liaisons and will be held from noon to 1 p.m.  Topics and locations change monthly.  Drinks and dessert will be provided. 
Those who are not currently Green Liaisons but who want to represent their department can contact Jacqueline Winslow at jwinslow@udel.edu.
More information regarding the Green Liaisons lunch schedule, past events and general information on the program can be found on its website.