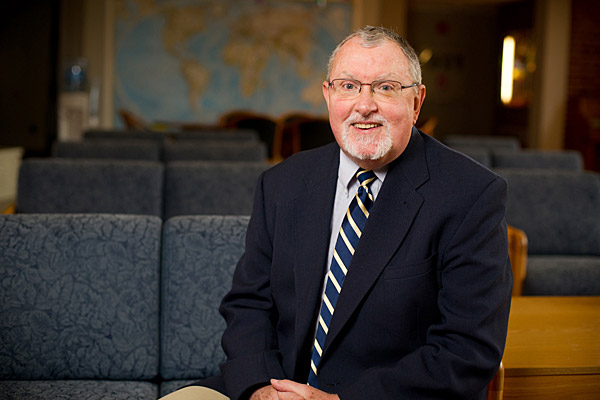 April 19-20: Cultural competency
Bruce La Brack to give talk, present workshops in keeping with Diversity Initiative
11:24 a.m., April 10, 2012--Bruce La Brack, professor emeritus of anthropology and international studies at the University of the Pacific in Stockholm, Calif., will visit the University of Delaware from April 19-20, to discuss cultural competency. The events contribute to President Patrick Harker's Diversity Initiative and further the mission of UD's Women in Engineering program.
Recognized as an authority on international studies, La Brack has been examining cultural competency and the role that intercultural communication plays in numerous contexts. He instructs foreign and domestic students on working with others collaboratively in multicultural situations. 
June 6: UDid It! Picnic
All UD faculty and staff members are invited to attend the annual UDid It! employee appreciation picnic, set from 11 a.m.-1:30 p.m., Monday, June 6, on The Green.
2FA protects you
If you are using two-factor authentication (2FA), even if a hacker has your password, your information is probably safe.
La Brack will deliver an invited lecture, "The Challenge of Doing Science While Being in Different Cultural Contexts," on Thursday, April 19, at 4 p.m., in 100 Wolf Hall.
Subsequently, he will conduct two additional workshops on Friday, April 20, for faculty and graduate and students:
"Preparing Students—and Ourselves—to Work Effectively Across Cultures," 9-10:30 a.m., in the Kirkwood Room of the Perkins Student Center. Intended for faculty. 
"The Intercultural Classroom: How to Recognize and Effectively Respond to Culturally Different Communication Styles," 1:30-3 p.m., in the Perkins Student Center. Intended for graduate students and postdoctoral fellows.
The workshops are free, but seating is limited. Interested participants can reserve a space by emailing Heather Doty, UD ADVANCE manager, at hdoty@udel.edu. 
These events are co-sponsored by the Women in Engineering Program (WIE), UD ADVANCE, the Air Products Foundation, Delaware Environmental Institute (DENIN)/Experimental Program to Stimulate Competitive Research (EPSCoR), the College of Arts and Sciences and the Office of Graduate and Professional Education. 
About Bruce La Brack
La Brack is a member of the AFS Educational Advisory Council and was the recipient the 2011-2012 NAFSA Teaching, Learning, and Scholarship (TLS) Knowledge Community Award for Innovative Research and Scholarship in Internationalization. He created a successful reentry program for students who study abroad, as well as the website "What's Up with Culture?," an online resource for students embarking on and returning from international excursions. 
Widely published, La Brack has visited more than 85 countries, conducting extensive research while living in Uganda, England, Japan and India. He specializes in Southeast Asia. 
He formerly served as chair of the master of arts in intercultural relations program and director of the Pacific Institute for Cross Cultural Training at the University of the Pacific, California.
Article by Janie Sikes