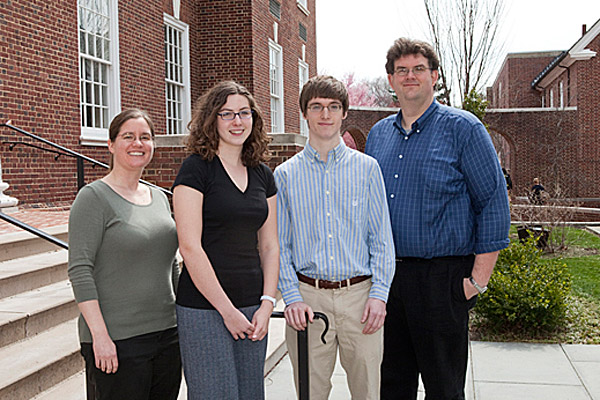 ACS Fellowship
UD undergraduate student Hilary Kerchner wins ACS research fellowship
1:01 p.m., April 16, 2012--The University of Delaware's Hilary Kerchner has received an American Chemical Society Division of Organic Chemistry Summer Undergraduate Research Fellowship. 
Kerchner, a junior chemistry major and Honors Program student, is the second UD student in two years to win the prestigious fellowship. Derek Ahneman received the honor in 2011.
Chronic wounds
UD's Millicent Sullivan and Kristi Kiick have received a $1.4 million grant from the National Institutes of Health for research that could provide a new approach to the treatment of chronic wounds.
Prof. Heck's legacy
The American Chemical Society is highlighting the legacy of the late Nobel laureate Richard Heck, the Willis F. Harrington Professor Emeritus of Chemistry at the University of Delaware with a digital tribute on its publications website.
The $5,000 fellowship, for research to be conducted during the summer, was awarded to only 14 students throughout the country.
Applicants had to submit a research proposal, academic records and faculty recommendations, as well as display a passion for laboratory science. 
The program will provide financial support to enable the recipients to visit the Pfizer Global Research and Development site in Groton, Conn., this fall for a dinner, award session, scientific talks, a tour of the campus and a poster session, where research investigations from the summer will be presented.
As part of the research group of Mary Watson, assistant professor in the Department of Chemistry and Biochemistry, Kerchner's work is centered on the discovery of new catalytic, stereoselective methods for organic synthesis by utilizing the power of both transition metal and Bronsted acid catalysts. 
"I am very honored to receive such a prestigious award," Kerchner said. "I have worked very hard with Prof. Mary Watson and Dr. Prantik Maity to advance this project to where it is today. Being involved in undergraduate research has allowed for opportunities like this one, which allow for in-depth experience in the lab, benefiting me greatly on my journey to graduate school."
Article by Andrea Muddiman