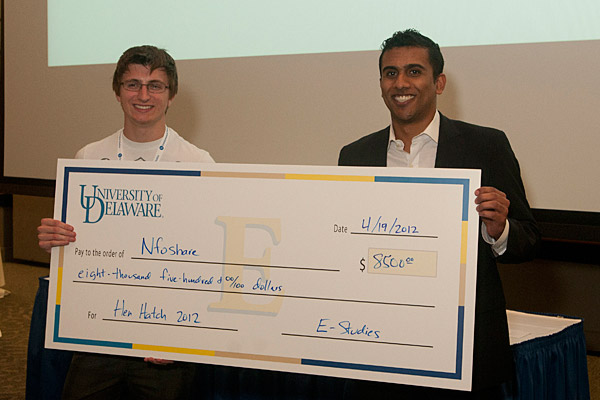 Hen Hatch results
Finalists pitch startup ideas, receive monetary awards
3:41 p.m., April 25, 2012--The final presentations of Hen Hatch, the University of Delaware's premier business startup funding competition, were held as part of the fifth annual President's Forum on Innovation and Entrepreneurship held Thursday, April 19, on UD's Newark campus.
Three teams from both the student track and alumni, faculty and staff track of Hen Hatch made their pitches to a panel of experts who evaluated the presentations and awarded monetary prizes to each of the teams.
From graduates, faculty
As it neared time for the processional to open the University of Delaware Commencement ceremonies, graduating students and faculty members shared their feelings about what the event means to them.
Doctoral hooding
It was a day of triumph, cheers and collective relief as more than 160 students from 21 nations participated in the University of Delaware's Doctoral Hooding Convocation held Friday morning on The Green.
In the student track, Mobiletech Orthopedics, a startup by Alexander Razzook of the College of Health Sciences featuring a patented prosthetic design, received $4,700.
Xling, a platform for sharing live video updates led by Beau Jones and Mike Devine, both of the Alfred Lerner College of Business and Economics, received $4,300.
T3D, a nanotechnology-based targeted drug delivery system led by Vinu Krishnan, a doctoral candidate in materials science and engineering, was awarded $1,000.
In the alumni, faculty and staff track, Nfoshare, led by Nikhil Paul, a 2009 honors electrical engineering graduate, was awarded $8,000. The startup also received an additional $500 based on results from an "Audience Choice" award.
HapHunt, led by Benjamin Tang and Eric Pridgen, both 2003 honors chemical engineering graduates, received $1,250.
Endevr, led by Pedro Moore, a 2006 management and marketing graduate, was awarded $750. 
All teams also received an incorporation services package from CorpCo; New Castle County Chamber of Commerce memberships; three to five hours of legal services from Connolly Bove Lodge and Hutz; and three to five hours of accounting services from Belfint Lyons and Shuman. 
Article by Kathryn Meier
Photo by Duane Perry