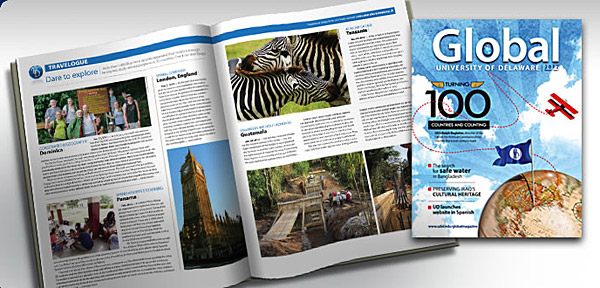 New edition of UD Global now available
Magazine highlights UD's international people, partnerships and projects
4:35 p.m., April 3, 2012--There's lots to explore in the new issue of the University of Delaware's Global magazine, now available in print and online, including an iPad version. 
Among the highlights:
Fulbright awards
Three University of Delaware students and an alumna have received word this spring that they will travel abroad as part of the newest class of Fulbright Student Program award winners.
Peace Corps plans
Two University of Delaware students, John McCarron and Bridgette Spritz, have been selected as Peace Corps volunteers and will serve in Ghana and Rwanda.
Ralph Begleiter, director of the Center for Political Communication, shares his adventures en route to visiting "100 Countries and Counting." His travels as CNN's world affairs correspondent from 1981 to 1999 took him inside the previously impregnable Kremlin walls (where he was the first to record an on-camera report), to former Philippine First Lady Imelda Marcos' shoe closet (she had over 300 pairs). At UD, his study abroad and international media workshops have swept him across the 100-nation threshold. 
The "Search for Safe Water in Bangladesh" tells how Holly Michael, assistant professor of geological sciences, is helping the world's seventh-most populous nation to identify and protect water that is free of the poisonous arsenic that plagues wells across southern Asia. Assisting her is Md. Mahfuzur Khan, who is intent on completing his doctorate at UD and returning to his homeland to address the crisis. 
"Preserving Iraq's Cultural Heritage" highlights UD's role, through the Department of Art Conservation and the Institute for Global Studies, in an extensive partnership that is instructing Iraqi students in techniques for conserving their country's national treasures, from Babylonian archaeological sites to golden jewelry from Ur. 
UD alumnus Nuno Crato, Portugal's minister of education, higher education and science, is featured in the Alumni Spotlight. 
And in the Travelogue, UD undergraduate and graduate students fill us in on projects ranging from building a bridge to help a community in Guatemala to documenting a unique language in Indonesia.