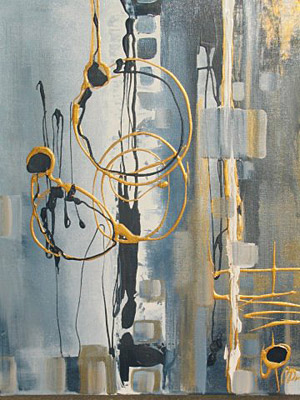 For the Record, April 27, 2012
Faculty and staff announce recent exhibitions, presentations, publications
11:21 a.m., April 27, 2012--For the Record provides information about recent professional activities of University of Delaware faculty, staff, students and alumni.
Recent exhibitions, presentations and publications include the following:
From graduates, faculty
As it neared time for the processional to open the University of Delaware Commencement ceremonies, graduating students and faculty members shared their feelings about what the event means to them.
Doctoral hooding
It was a day of triumph, cheers and collective relief as more than 160 students from 21 nations participated in the University of Delaware's Doctoral Hooding Convocation held Friday morning on The Green.
Exhibitions
Olga Dmytrenko, supplemental professional in the Department of Chemical and Biomolecular Engineering, will be featured in an exhibition titled "Abstravaganza: Themes and Variations" from May 4-25 in the Delaware Division of Arts Mezzanine Gallery in the Carvel State Office Building, 820 North French St., Wilmington. A reception will be held from 5-8 p.m., Friday, May 4, as part of the city's art loop. The solo exhibition will showcase paintings that explore Dmytrenko's combination of visual and musical emotional abstractions, projected in a two dimensional work. In this series of works, the artist uses acrylics, oils, and pastels to depict a certain state of mind and mood that she takes from music and her world. The artist is a member and representative in the United States for the International group of six artists, 3rd Paradigm. To watch the division's Meet the Artist video and learn more about the exhibition, click here.
Presentations
Francis Poole, head, Film and Video Collection Department, University of Delaware Library, represented the library at the screenings of "Sleepwalking: The Films of Sara Driver" at Anthology Film Archives and gave a presentation about Driver's film of the Paul Bowles short story You Are Not I, March 23-25, New York.
Mark Samuels Lasner, senior research fellow, Special Collections Department, University of Delaware Library, gave a presentation "Aubrey Beardsley and His Publishers" at the Book Club of California in connection with the Cult of Beauty exhibition and Miles Cohen exhibition sponsored by the Book Club of California, March 27-31, San Francisco.
Chandra L. Reedy, professor of public policy and administration, in the Center for Historic Architecture and Design and in Asian Studies, with Center for Historic Architecture and Design graduate students Jenifer Anderson and Yimeng Liu, "Calibration of Image Analysis Protocols for Quantitative Ceramic Petrography," Society for American Archaeology annual meeting, Memphis, April 22.
Publications
Elizabeth Soslau, assistant professor of education, published "Opportunities to Develop Adaptive Teaching Expertise During Supervisory Conferences" in Teaching and Teacher Education, 28(5), 768-779.
To submit information to be included in For the Record, write to ud-ocm@udel.edu.