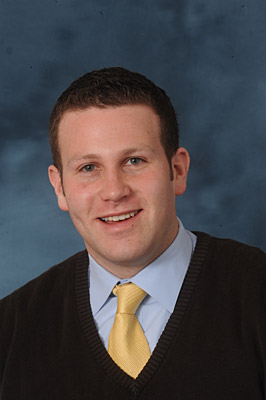 For the Record, April 6, 2012
Faculty and staff announce recent presentations, publications
1:59 p.m., April 6, 2012--For the Record provides information about recent professional activities of University of Delaware faculty, staff, students and alumni.
Recent presentations, press, publications and service include the following:
From graduates, faculty
As it neared time for the processional to open the University of Delaware Commencement ceremonies, graduating students and faculty members shared their feelings about what the event means to them.
Doctoral hooding
It was a day of triumph, cheers and collective relief as more than 160 students from 21 nations participated in the University of Delaware's Doctoral Hooding Convocation held Friday morning on The Green.
Presentations
Theodore E.D. Braun, professor emeritus of French and comparative literature, presented two conference papers -- "A Midlife Crisis, or Le Franc de Pompignan Rediscovers Religion," South Central Society for 18th Century Studies, Feb. 21-23, and "Two 18th Century Spanish Translations of Voltaire's Tragedy Alzire," American Society for 18th Century Studies, March 21-25.
Chandra Reedy, professor in the Center for Historic Architecture and Design, School of Public Policy and Administration, and Asian Studies, gave a two-day workshop on thin-section petrography of cultural materials for the National Center for Preservation Technology and Training. The hands-on workshop focused on analysis of stone and ceramic material culture, and is featured in the NCPTT website. The workshop was held at the National Conservation Training Center, Sheperdstown, W.Va., March 27-28.
Press
McKay Jenkins, Cornelius A. Tilghman Professor of English and co-director of UD's Environmental Humanities Program, is the author of the cover story in the April issue of Baltimore-based Urbanite magazine. The story is headlined "The Era of Suburban Sprawl Has to End. So, Now What?" and can be found online at this website.
Peter Atwater, supplemental faculty in the Department of Business Administration, was featured in a March 9 Time magazine Curious Capitalist column by Rana Foroohar. Atwater, who heads the firm Financial Insyghts, discussed the national mood and the relationship of emotion to recent employment figures.
Publications
Margaret D. Stetz, Mae and Robert Carter Professor of Women's Studies and professor of humanities, has had an essay, titled "Enrobed and Encased: Dying for Art in A.S. Byatt's The Children's Book," published in the Journal of Victorian Culture, 17:1 (2012).
Theodore E.D. Braun, professor emeritus of French and comparative literature, wrote the article "Le Franc de Pompignan Turns 40: A Midlife Crisis?" in New Perspectives on the 18th Century, 9 (2012), 3-13.
Jerry Cutler, director of human resources, has been recognized by global publishing and information leader Thomson Reuters for his work as a contributing author on its publication "Legal Guide to Human Resources." The treatise provides guidance to attorneys and human resources professionals on topics ranging from sexual harassment, collective bargaining and discrimination, to benefits, compensation and privacy. "We're very pleased about this recognition," said Jennifer (J.J.) Davis, vice president for finance and administration. "The entire HR team is committed to providing the highest quality service to faculty and staff, and Jerry's work helps keep us up-to-date on the latest developments in the human resources field."
Service
David Arthur, a 2006 UD graduate who studied sport management, has been named executive director of the Delaware Sports Commission. Arthur is the former director of marketing and community relations with the Wilmington Blue Rocks, promoted events for the Raymond Entertainment Group and worked with the National Collegiate Athletic Association on sports-related programs.
Karol Oviedo, a UD student and resident student association national communications coordinator for the National Association of College and University Residence Halls (NACURH), has been selected to serve on the regional board of directors for the Central Atlantic affiliate of NACURH. Oviedo will represent UD as the regional communications coordinator for resources development. As regional communications coordinator, Oviedo will be responsible for maintaining the regional website, creating resource guides for improving student organizations, creating a survival guide for national communications coordinators, assisting with planning board room agendas and conference programming tracks for the National Residence Hall Honorary and maintaining regional membership lists. Oviedo will have the opportunity to affect change and help students in the region and across the country. During her one-year term, she plans to make the website more user friendly, utilize additional social media resources to reach out to affiliated schools and create a mobile app for students to use. Oviedo is a sophomore foreign languages and literatures major. In addition to her involvement in the Resident Student Association and National Residence Hall Honorary, she is active in Delta Gamma women's fraternity and Uganda Untold.
To submit information to be included in For the Record, write to ud-ocm@udel.edu.