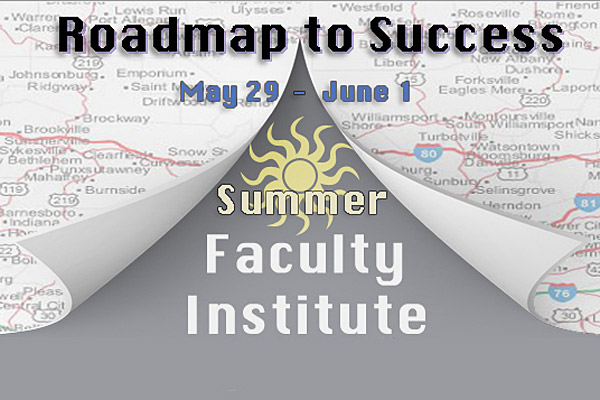 SFI kick-off events
Sidneyeve Matrix keynote speaker at University's Summer Faculty Institute
11:12 a.m., April 27, 2012--Sidneyeve Matrix, the keynote speaker for the University of Delaware's 2012 Summer Faculty Institute (SFI), has said that "research shows that there is a correlation between social presence and student success. When students feel connected to a community of inquiry they are more enthusiastic, motivated, and they perform better. If that engagement, communication and awareness happens continuously and in real-time, as it does in a face-to-face classroom—all the better."
That commitment to improving student engagement brings Matrix, a National Scholar and assistant professor in the Department of Media and Film at Queen's University, Canada, to this year's institute.
June 6: UDid It! Picnic
All UD faculty and staff members are invited to attend the annual UDid It! employee appreciation picnic, set from 11 a.m.-1:30 p.m., Monday, June 6, on The Green.
2FA protects you
If you are using two-factor authentication (2FA), even if a hacker has your password, your information is probably safe.
Matrix's keynote address is the institute's kick-off event on Tuesday, May 29, at 9 a.m., in 104 Gore Hall. Following her keynote presentation, she will lead a hands-on workshop focused on social media professionalization.
Matrix maintains a digital culture trendwatch at cyberpopblog.com, teaches a massive online open course (MOOC) "Media and Culture" at film240x.com and has an archive of her material at sidneyevematrix.com. 
Keynote address
"Looking Ahead: New Tools for Student Engagement." Matrix's keynote address will examine emerging trends in teaching with technology, online and blended courses and using social and mobile media to increase student engagement and outcomes. She'll review best practices for integrating social networks, geo-locational data and digital creativity into courses across the curriculum. Highlighting recent innovations in using online video, course apps, collaborative platforms, and webinars, her presentation demonstrates how faculty are designing active learning pedagogies with digital tools to prepare techno-fluent graduates for the workplace. 
Hands-on workshop
"Social Media Professionalization: Action Steps for Time-Starved Faculty." This hands-on workshop is designed for those who want to improve their online persona through developing a robust online presence. With concrete action steps, participants will learn how to use multimedia tools such as blogs and images, video and podcasting, booklists, visual bookmarking and social good initiatives to create a current, relevant and impactful digital footprint.
Matrix will review new social networks specifically for scientists, researchers, artists and other academics, and she'll share ideas, tools and case studies of how to quickly and easily professionalize your presence on some of the best known social platforms including a Facebook profile, a LinkedIn page, a YouTube channel, a Pinterest board and a Twitter stream.
To decrease the learning curve, this workshop is all about shortcuts and timesavers. Participants are guaranteed to leave this workshop full of ideas and inspiration to optimize their online personas, whether they have a few minutes or a weekend to do so.
About Sidneyeve Matrix
Matrix teaches courses in mass communications, marketing, digital and social media for undergraduates at Queen's University. She also teaches similar classes in the Queen's School of Business Executive Development Centre and for Rutgers University Center for Management Development. She is an educator in residence at the Centre for Teaching and Learning at Queen's as well as the recipient of the OUSA Award for Excellence in Teaching at Queen's University given by the Alma Mater Society and the Ontario Undergraduate Student Alliance.
Matrix is an associate editor for social media of The Journal of Professional Communications and on the editorial boards of The International Journal of Interactive Multimedia and The Canadian Journal of Popular Culture. She also works as a social media developer at MatrixMediaFX helping brands increase their digital IQ.
To register and find out more about Matrix and other institute events, visit the SFI website.