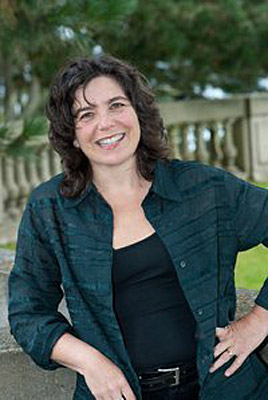 April 18: Earth Week begins
UD Earth Week to feature 10 days of celebratory, informative events
11:50 a.m., April 4, 2012--Author Susan Freinkel will kick off Earth Week 2012 at the University of Delaware with a discussion of her book, Plastics: A Toxic Love Story, at 12:15 p.m., Wednesday, April 18, in Multipurpose Room A of the Trabant University Center.
Later that day, the College of Arts and Sciences will sponsor a free screening and discussion of Bag It, the story of a man who was inspired to investigate his use of plastic shopping bags, at 7 p.m. in 127 Memorial Hall.
From graduates, faculty
As it neared time for the processional to open the University of Delaware Commencement ceremonies, graduating students and faculty members shared their feelings about what the event means to them.
Doctoral hooding
It was a day of triumph, cheers and collective relief as more than 160 students from 21 nations participated in the University of Delaware's Doctoral Hooding Convocation held Friday morning on The Green.
Earth Week will include 10 days of film screenings, a 5k walk/run, outdoor yoga sessions, presentations by sustainable local businesses and campus units, swaps and donations of used clothing and shoes, live music, and more. 
These events are free, with the exception of the 5K runner registration, and all events are open to the UD community. For a full schedule of events, see the Earth Week website. 
There are plenty of opportunities to get involved and have fun, and also to win prizes, according to organizers, who said the popular reusable Earth Week steel water bottles will also be making a comeback in support of sustainable water practices on campus.
Individuals involved with sustainability efforts within their organization, department or local business are invited to share information on their efforts at the Green Expo, to be held on Wednesday, April 25, from noon to 4 p.m. in the Trabant Food Court. Presenters do not need to be present for the entire event and can opt for a certain time frame, or have different members of a unit presenting throughout the event.
Topics and materials should pertain to issues on sustainability at the campus, local, national, and/or global levels. Submissions can include but are not limited to: poster board, 3D models, digital display devices such as laptops or iPads (must provide own battery powered device). Presentation space will be no larger than an eight-foot table, but may be as small as an easel, depending on your needs. 
To participate, submit a description of the presentation via the online form.
Earth Week 2012 is organized and sponsored by UD's Sustainability Task Force, a collection of more than 60 faculty, staff and students charged with making UD more sustainable. The task force includes a variety of working groups focused on specific projects such as Campus Sustainability Day, UD's Sustainability Fund, and more. All UD faculty, staff, and students are invited to participate in groups of their choice; more information can be found the task force website.
Article by Casey Impagliazzo