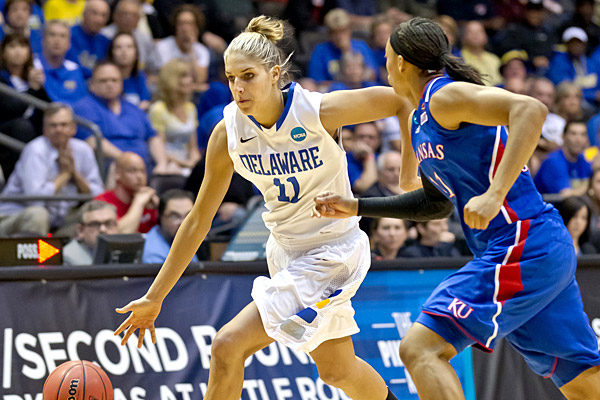 First pitch
Delle Donne to throw ceremonial first pitch as Phillies play home opener Monday
2:14 p.m., April 7, 2012--University of Delaware junior All-American women's basketball player Elena Delle Donne, who led the NCAA Division I in scoring for the 31-2 Blue Hens, will throw the ceremonial first pitch as the Philadelphia Phillies play their home opener on Monday afternoon, April 9, at Citizens Bank Park. 
Delle Donne is scheduled to throw the first pitch at 1:03 p.m., shortly after the National Anthem by the Philadelphia Boys Choir and Men's Chorale and a flyover by an FA-18 Hornet squadron from the Patuxent River (Md.) Naval Air Station.
Rower honored
University of Delaware junior Claire Brown has been named second team Collegiate Rowing Coaches Association All-Region.
Unsung Hero
The One Love Foundation has announced that University of Delaware men's lacrosse standout Elijah Conte has been selected as a winner of the 2016 YRL Unsung Hero Award.
The Navy parachute team, the Leap Frogs, will parachute onto the field and deliver the first ball.
Delle Donne, who had 28.1 points and 10.3 rebounds per game, won a host of postseason awards, being named first team All-American by the Associated Press, Women's Basketball Coaches Association and U.S. Basketball Writers Association. She was named a John Wooden All-American and was the player of the year in the ECAC and the Colonial Athletic Association.
Delle Donne also was named the CAA scholar-athlete of the year in women's basketball, with a 3.6 grade point average as an early childhood education major.
For more on Phillies opening day, see the team press release.