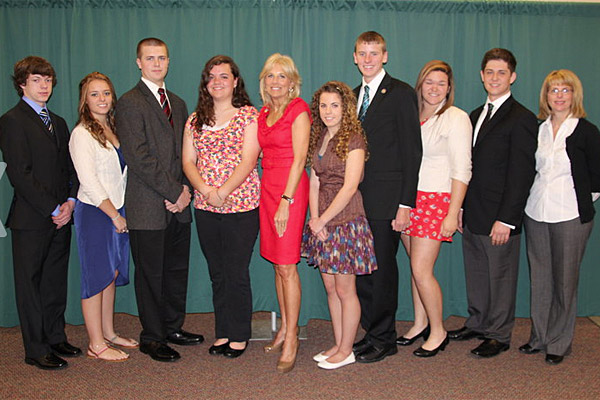 4-H in D.C.
Delaware delegation attends National 4-H Conference
3:09 p.m., April 27, 2012--Eight 4-H teens were selected to represent Delaware at the National 4-H Conference in Washington, D.C., last month. The conference is an annual event that brings together more than 200 youth leaders and adults from all across the country to share ideas and help develop future 4-H programming. 
The Delaware delegation consisted of Benjamin Shaffer, Mckenzie McCracken and Ashley Gouge from New Castle County; Trevor Maloney, Patricia Pritchett and Colleen Carter from Kent County; and Nathan Bradley and Stephen Mervine from Sussex County.
'Resilience Engineering'
The University of Delaware's Nii Attoh-Okine recently published a new book with Cambridge University Press, "Resilience Engineering: Models and Analysis."
Reviresco June run
UD ROTC cadets will run from New York City to Miami this month to raise awareness about veterans' affairs.
Jill Biden, a University of Delaware alumna and wife of Vice President Joe Biden, who is also a Blue Hen, spoke to conference participants about Joining Forces, the initiative she started with First Lady Michelle Obama to encourage Americans to support military families. 
Biden urged 4-H members to continue their longtime support of military families and to continue to act as role models and mentors. "4-H members are extraordinary role models and mentors in their communities," she said.  "Just as our military men and women serve our country on the battlefield, these young people lead in our communities.  Over the next few decades, one of the tasks that will define their generation will be their support for our returning veterans and our military families."
Conference delegates participated in roundtable discussions with representatives of federal agencies about topics affecting youth and the role 4-H can play in addressing these issues. Issues included: alcohol and drug use prevention, youth suicide prevention, healthy eating and living, equal education for under-represented groups, integration of veteran and military families into local communities, and using science and technology to improve local communities.
Nationally, nearly six million young people ages 5-19 are involved in 4-H youth development programs.  In Delaware, more than 60,000 young people participate in 4-H programming annually. For more information about Delaware 4-H call 831-8965 in New Castle County, 730-4000 in Kent County and 856-7303 in Sussex County.