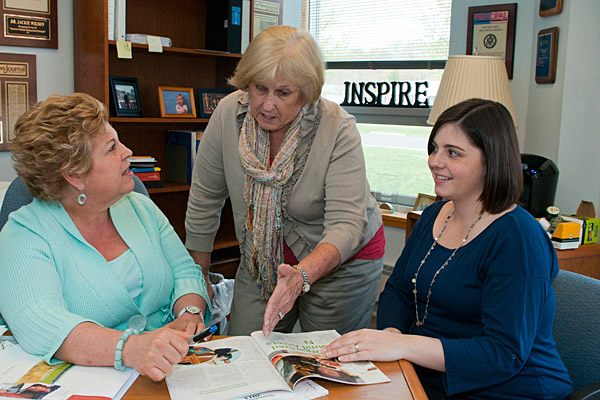 Guiding teacher evaluations
DASL development coaches assist principals with evaluations
12:02 p.m., April 16, 2012--When evaluating an employee's performance, some might find it helpful to have a coach with whom they could confidentially discuss their approach -- someone who could offer alternative viewpoints or strategies to help them develop and motivate their employees to reach their full potential.
Principals in Delaware now have that service available. In 2011, the Delaware Academy for School Leadership (DASL) in the University of Delaware's College of Education and Human Development launched the Development Coach Project.
From graduates, faculty
As it neared time for the processional to open the University of Delaware Commencement ceremonies, graduating students and faculty members shared their feelings about what the event means to them.
Doctoral hooding
It was a day of triumph, cheers and collective relief as more than 160 students from 21 nations participated in the University of Delaware's Doctoral Hooding Convocation held Friday morning on The Green.
The project, funded through a $3 million Race to the Top grant in partnership with the Delaware Department of Education, provides principals with coaches to assist them with their appraisal of teachers and specialists.
Development coaches are experienced educators who have served as teachers, school leaders and district administrators. They are able to draw upon years of knowledge to offer valuable guidance for both experienced and new school administrators. As well-qualified experts, they provide administrators a resource to discuss confidential issues during the appraisal process.
The teacher appraisal system in Delaware requires principals and/or assistant principals to meet with their teachers annually, discuss their lesson plans, observe them in their classrooms and provide feedback in a post-conference.
As part of their weekly coaching sessions, development coaches will offer principals advice regarding pre-conferences and observation sessions, helping them ask the right questions and counseling them on how to phrase recommendations.
"The administrator needs to understand the varying levels of support teachers in different stages of their career require and cater their evaluations for teachers with a wide range of credentials. Development coaches can advise how to give basic class management tips to a new teacher, while helping the principal identify something appropriate and motivating to share with a master teacher," said Jackie Wilson, DASL director.
Annemarie Linden, principal of Hodgson Vocational-Technical High School in Glasgow, said she appreciates the support. "Having a development coach this school year has been very beneficial to me and my administrative team as we navigated through a new approach to writing evaluations. As a result of the coaching experience I am feeling confident in my ability to utilize the DPAS II (Delaware Performance Appraisal System) rubrics and procedures to have a positive impact on all of the teachers I supervise."
The development coaches program is currently underway with nine development coaches providing training programs and services to over 140 principals and assistant principals in 60 schools.  For more information, contact Sharon Brittingham, Development Coach coordinator, at 302-855-1628.
Photo by Lane McLaughlin