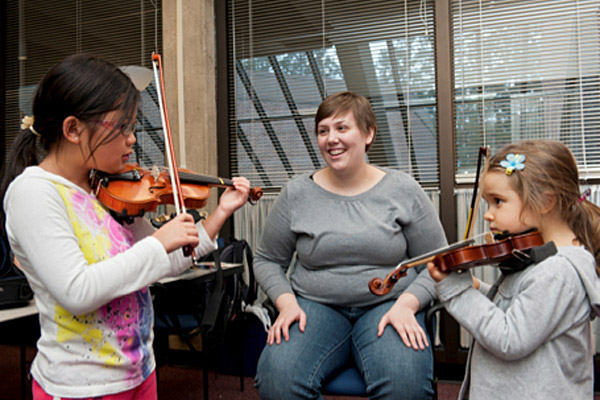 CMS activities
UD's Community Music School announces spring recitals, summer registration
12:52 p.m., April 17, 2012--The University of Delaware's Community Music School (CMS) has announced a series of spring recitals, and also applications for summer programs.
The CMS Suzuki Institute will hold its recitals on Sunday, April 29, at 3 p.m. and 5:30 p.m., respectively, in the Gore Recital Hall of UD's Roselle Center For the Arts. The CMS Suzuki Institute uses the method developed by Shinichi Suzuki. Students are instructed in piano, guitar and violin and the institute accepts students ages 4-12.  The recitals are free and open to the public.
From graduates, faculty
As it neared time for the processional to open the University of Delaware Commencement ceremonies, graduating students and faculty members shared their feelings about what the event means to them.
Doctoral hooding
It was a day of triumph, cheers and collective relief as more than 160 students from 21 nations participated in the University of Delaware's Doctoral Hooding Convocation held Friday morning on The Green.
The CMS general recital will be held Monday, April 30, at 7 p.m., also in Gore Recital Hall of the Roselle Center For the Arts. The recital is free and will feature private study students from CMS singing and playing a variety of instruments.  The schools provides private lessons to students of all ages and both the Suzuki and general recitals will give interested parents and students an opportunity to see what the CMS is doing, as well as a chance to meet some of its instructors.
The award winning University of Delaware Gold and Blue Children's Choirs (UDCC) and the UD Youth Choral Ensemble (UDYCE) will hold their spring concert on Sunday, May 6, at 5:30 p.m., in Loudis Recital Hall of UD's Amy E. du Pont Music Building. Featuring perennial favorites and newly composed music, this year's concert promises to delight the musical senses. Join directors Debra Arnold (Gold), Kristen LaPorte (Blue) and Gary Smith (UDYCE) and their students. Tickets are available at the door and cost $8 for adults and $3 for students.
Summer programs
The CMS is also taking applications for its summer programs.  Camps include: string ensemble, wind ensemble, middle school band, children's choral, high school choral and jazz for various ages.
The early childhood music program (ages birth-6) is also accepting students for the summer. 
There is also opportunity for private study in various instruments.
The application fee waiver has been extended to Monday April 30. For details, see the website.