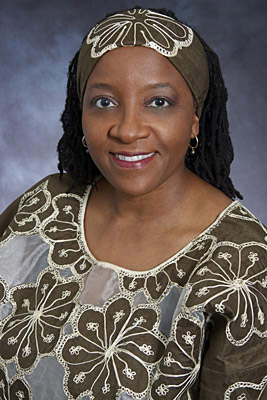 April 24: Nontombi Naomi Tutu
Human rights activist Nontombi Naomi Tutu to speak at UD
11:53 a.m., April 19, 2012--Culminating a year of activities by the University of Delaware's African Studies Program, human rights activist Nontombi Naomi Tutu will deliver the 2012 African Studies Distinguished Lecture, "We are NOT Waiting to be Saved! Women of Africa, Activists for a Better Future," on Tuesday, April 24, at 5 p.m., in 116 Gore Hall. 
Tutu's talk, with support from the Center for Global and Area Studies (CGAS), will blend her passion for human dignity with personal stories of growing up black and female in apartheid South Africa as the third child of Archbishop Desmond Tutu.
June 5: Blue Hen 5K
University of Delaware graduates planning to attend Alumni Weekend are encouraged to register for the annual Blue Hen 5K walk and run, which will be held Sunday morning, June 5.
June 6-9: Food and culture series
The 20th annual June Lecture Series at the Osher Lifelong Learning Institute at UD in Wilmington will be held June 6-9. Titled 'June a la Carte,' this year's program focuses on great political documents, feminism, world politics and a Newark cuisine sampler.
Her lectures is also the first in a three-part distinguished speaker series by the newly created CGAS, which since January has created a faculty grant competition, developed a new website that consolidates all Area Studies programs, events and curricula, and launched numerous globally-engaging programs and seminars. 
For a flier on the talk, click here.
The following events in the lecture series are:
All events are free and open to the public. 
About the center
The Center for Global and Area Studies, the College of Arts and Sciences' hub for world scholarship and engagement, supports academic programs in African, Asian, European, Islamic, Jewish, and Latin American and Iberian studies. 
CGAS also organizes lectures and events in global and area studies, develops related majors and minors, and awards research grants to faculty whose work contributes to knowledge of the world.