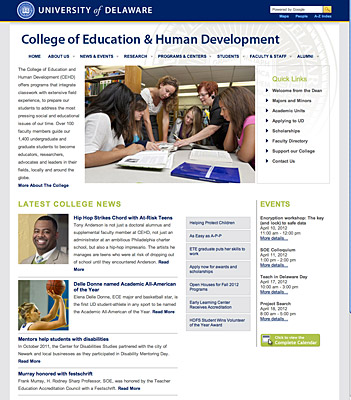 CEHD website
College of Education and Human Development launches new website
8:49 a.m., April 6, 2012--On Monday, April 2, the University of Delaware's College of Education and Human Development (CEHD) launched a newly redesigned website.  The new site was reconfigured to better represent the integrated services provided by the college, while incorporating UD's brand formatting.
"Our website now clearly demonstrates how our two academic units coordinate with our numerous programs and centers, allowing our students to gain a wide variety of field experiences," explains CEHD Dean Lynn Okagaki.
From graduates, faculty
As it neared time for the processional to open the University of Delaware Commencement ceremonies, graduating students and faculty members shared their feelings about what the event means to them.
Doctoral hooding
It was a day of triumph, cheers and collective relief as more than 160 students from 21 nations participated in the University of Delaware's Doctoral Hooding Convocation held Friday morning on The Green.
The website also provides helpful resources and services for all audiences -- faculty, staff, alumni, students, and even the community.
"In addition to our research and academic programs, we provide a tremendous number of services to the community, ranging from preschool classes to professional development training for school administrators," stated Okagaki. "We help day care centers improve their quality rating, coordinate services for individuals with disabilities and encourage underrepresented populations to pursue a career in teaching. It was important to have this information compiled in one easy-to-find location."
In addition to a new look and revised menus to improve navigation, the website has videos featuring students and faculty from CEHD explaining the advantages of becoming a student within the college.
"Our students, faculty and alumni are our best spokespeople.  They are truly passionate about their profession and seeing their enthusiasm is certain to entice prospective students," says Okagaki.
Article by Alison Burris