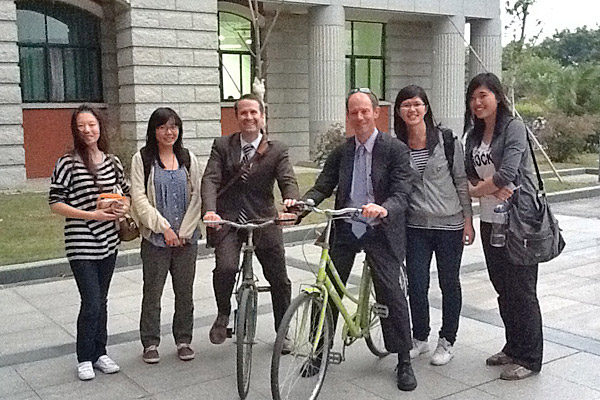 China connections
UD delegation explores exchanges with three universities
11:37 a.m., April 4, 2012--During a spring break visit to Chinese universities, a University of Delaware delegation explored connections between the U.S. and China on such issues as education and the environment.
The delegation, led by College of Arts and Sciences Dean George Watson, visited three Chinese university campuses to discuss a range of exchange relationships, especially Chinese cultural studies and UD's burgeoning program in environmental humanities. Watson was accompanied by Matt Kinservik, interim associate dean of the college; Jianguo Chen, the director of UD's Confucius Institute; and McKay Jenkins, Tilghman Professor of English and co-director of the environmental humanities program.
Fulbright awards
Three University of Delaware students and an alumna have received word this spring that they will travel abroad as part of the newest class of Fulbright Student Program award winners.
Peace Corps plans
Two University of Delaware students, John McCarron and Bridgette Spritz, have been selected as Peace Corps volunteers and will serve in Ghana and Rwanda.
The group visited East China Normal University in Shanghai, Peking University in Beijing and Xiamen University in Xiamen.
In meetings with administrators and professors from all three universities, the UD delegation discussed ways that students and scholars from China and UD can visit each other's campuses for study abroad programs, lecture series and scholarly collaborations. The group met with a wide range of faculty at the three universities, including members of departments of chemistry and chemical engineering, classical Chinese literary studies, communications, English, humanities, environmental studies, business, management and international exchange programs.
"The University of Delaware has a wide array of scholars whose expertise can contribute to emerging fields of study in China," said Watson, who was making his fourth trip to Chinese universities in recent years.
"Our students are increasingly interested in Chinese culture of all kinds, and of course we have a growing number of Chinese students studying here at UD. At the same time, our colleagues in China are doing exciting work in a variety of fields that we can learn from here. We look forward to strengthening our ties with these three wonderful universities."
Chen, who has longstanding relationships at all three universities, said he was pleased with the growing partnerships in China. "The Confucius Institute at UD has several major missions to accomplish," he said. "One is to function as a platform to develop programs that focus on globalization. This includes facilitating international collaborative initiatives between UD and Chinese universities, coordinating international and national conferences and symposiums, as well as developing educational and business partnerships in China.
"Collaborations with UD's partner institutions in China include, among other things, a jointly sponsored International Symposium on Confucian Studies and an International Inter-Religion Dialogue, as well as a planned Sino-American College Students Forum. I am very pleased that the Confucius Institute has been able to contribute to the university's Path to Prominence."
In lectures at East China Normal and Xiamen universities, Jenkins, author of the new book What's Gotten Into Us: Staying Healthy in a Toxic World, spoke about the environmental and health problems—on both sides of the Pacific—caused by Chinese industrial production and American consumer culture.
"With so much industry having shifted from this country to China over the years, it's easy for Americans to think that have somehow escaped the problem of industrial pollution," Jenkins said. "China is not so lucky. On the other hand, Americans are just beginning to wake up to the fact that many of the synthetic chemicals that go into their everyday products—a great volume of which are produced in China—are starting to show up in our own bodies.
"The science is becoming quite clear on this, along with evidence of the harm these chemicals can have on our own health. Both the environmental and the health problems require collaboration between the United States and China, and our visit with our colleagues in China offered an exciting glimpse of the potential for this kind of work."
In his talk, Jenkins included lines of classical Chinese philosophy and images of Chinese landscape painting to emphasize the traditional veneration the Chinese have had for their native environment. He also mentioned the deep affinity for Buddhism and Taoism that was held by America's foundational environmental thinkers, including Henry David Thoreau, Ralph Waldo Emerson and John Muir.
"The American environmental consciousness owes a great debt to Asian philosophical tradition," Jenkins said. "It's only natural that both our countries remember these connections."