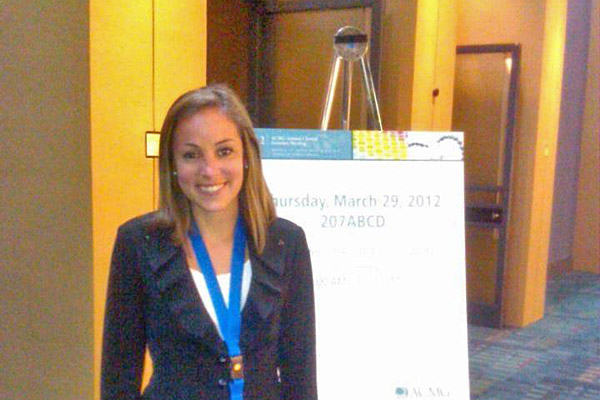 Calculating risk
UD undergraduate presents cancer research at national meeting
10:20 a.m., April 25, 2012--When Danielle McKenna submitted an abstract of her breast cancer research to the American College of Medical Genetics and Genomics (ACMG), she was hoping it would be accepted as a poster presentation.
Instead, on March 29, McKenna, a senior biological sciences major at the University of Delaware, found herself delivering a podium presentation to an audience of some 150 people at the ACMG Annual Clinical Genetics Meeting in Charlotte, N.C. She was the only presenter in her session of eight papers who was not a practicing genetic counselor.
Chronic wounds
UD's Millicent Sullivan and Kristi Kiick have received a $1.4 million grant from the National Institutes of Health for research that could provide a new approach to the treatment of chronic wounds.
Prof. Heck's legacy
The American Chemical Society is highlighting the legacy of the late Nobel laureate Richard Heck, the Willis F. Harrington Professor Emeritus of Chemistry at the University of Delaware with a digital tribute on its publications website.
For the past two years, McKenna has been conducting research under the guidance of Dr. Zohra Ali-Khan Catts and Dr. Bruce Boman at the Helen Graham Cancer Center on the Christiana Hospital campus. 
Funded by UD's Undergraduate Research Program and Delaware INBRE, McKenna is investigating which risk model or combination of risk models is most accurate in predicting a mutation in the BRCA1 and BRCA2 genes.
"These two genes are present in more than 70 percent of hereditary breast and ovarian cancer cases," McKenna says. "People who have a family history of these diseases can be tested and then counseled regarding medical or surgical preventive options if they test positive for the genes."
However, the tests are expensive, so risk assessment models are used to predict a patient's chance for carrying a BRCA 1 or 2 mutation.  The goal of the work McKenna is doing with the cancer center researchers is to determine the sensitivity and specificity of risk models.
"We evaluated five models, all of which use different combinations of risk factors to compute a patient's probability of having this mutation," McKenna says. "What we found is that none of them is very accurate, so better models, or adjustments to existing models, are needed so that testing can be done in a more cost-effective manner."
McKenna's career goal is to become a genetic counselor, and she is planning to attend graduate school beginning in fall 2012.  Professionally, she is interested in continuing to work in the area of cancer.
"Many people think it's depressing to work with cancer patients," she says, "but I really enjoy it. What I've found is that many of them are really willing to contribute to research so that others don't have to experience what they've gone through."
For Ali-Khan Catts, mentoring McKenna has been very rewarding. 
"Danielle has made tremendous progress since she joined our research project two years ago," she says. "It's been really nice to see her gain confidence and complete this project, which is really at the level of graduate work. With this research focused on developing accurate ways to determine who should receive genetic testing, she has also gained a good understanding of the need to spend healthcare dollars wisely."
About Delaware INBRE
Delaware INBRE (IDeA Networks of Biomedical Research Excellence) supports infrastructure development across a statewide network of academic and clinical institutions to grow biomedical research capacity for faculty and students in the areas of cancer, cardiovascular health and neurosciences.  The program is funded by the National Institutes of Health.
Article by Diane Kukich