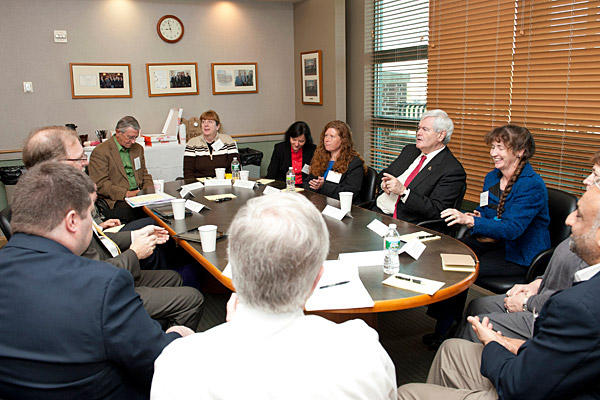 Brain research
Gingrich touts brain science research during DBI visit
9:01 a.m., April 20, 2012--Republican presidential candidate Newt Gingrich visited the Delaware Biotechnology Institute (DBI) at the University of Delaware on Thursday morning, April 19, to discuss the importance of brain research with faculty, scientists and advocates for neurological research and the treatment of brain diseases.
"If you are looking at trying to impact health care, we need to invest substantially in more brain research than we currently do," Gingrich said. "There are so many manifestations of bad health relating to brain activity."
From graduates, faculty
As it neared time for the processional to open the University of Delaware Commencement ceremonies, graduating students and faculty members shared their feelings about what the event means to them.
Doctoral hooding
It was a day of triumph, cheers and collective relief as more than 160 students from 21 nations participated in the University of Delaware's Doctoral Hooding Convocation held Friday morning on The Green.
Additional research commitments are needed in areas such as autism and Alzheimer's and Parkinson's diseases, Gingrich said.
The health concerns are "staggering" and yet "our research response is not," Gingrich said. "If you look at the 41 years since President Nixon declared war on cancer, and the scale of investment in cancer research, or look at AIDS, you can see the size of those commitments."
Gingrich said key goals include a public/private research initiative to map the brain and maximize understanding of how it works and what affects it, a reformed Food and Drug Administration with the mission of understanding emerging new science and accelerating its development from the laboratory to the patient, and the development of an integrated public/private partnership to use new technologies to minimize the stress of caregiving and maximize the potential for independent living for those with brain disorders. 
Kelvin Lee, Gore Professor of Chemical Engineering and director of DBI, said the discussion reflects the opportunity for progress while illustrating the total collaborative effort such a goal will require.
"I think we agreed that investments to support a more comprehensive understanding of the brain (and brain diseases) would facilitate the discovery and implementation of new treatments, improved care and outcomes, as well as lower costs to society," Lee said. "On the other hand, developing such an understanding will require multidisciplinary teams to work together and will require partnerships among academic, public, and private institutions."
Thomas Buchanan, George W. Laird Professor of Mechanical Engineering and director of the Delaware Rehabilitation Institute, said, " A better understanding of brain science is critical to providing aid to those with Parkinson's Disease, stroke, cerebral palsy and a host of other neurological disorders that lie at the heart of the rehabilitation research in the state of Delaware. I think that if we, as a nation, invest in brain sciences in a major way, we will be more than paid back in health benefits for our parents, our children and ourselves."
Other University faculty joining Lee and Buchanan at the discussion were:
Stuart Binder-McLeod, chair of the Department of Physical Therapy and Edward L. Ratledge Professor of Physical Therapy, and an affiliated faculty member in the Biomechanics and Movement Science Program;
Anna Klintsova, associate professor of psychology; and
Greg Miller, chair of the Department of Psychology
Lee also noted that DBI is hosting a science retreat for the Delaware neuroscience community on Friday, Sept. 27, at Buena Vista Conference Center in New Castle.
Article by Jerry Rhodes
Photo by Kathy F. Atkinson