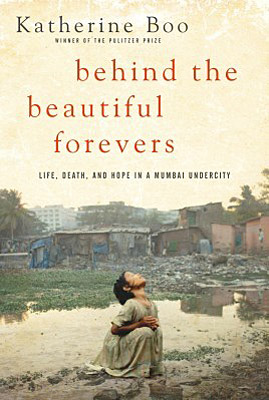 'Beautiful Forevers'
Katherine Boo selected as 2012 First Year Common Reader author
10:20 a.m., April 16, 2012--Katherine Boo, Pulitzer Prize-winning author of Behind the Beautiful Forevers: Life, Death and Hope in a Mumbai Undercity, will visit the University of Delaware this fall to discuss her book with freshmen as part of the 2012 First Year Common Reader program.
Selected works are read by UD freshmen before arriving on campus for the fall semester, with films, speakers and other cultural events organized around the book's theme. 
From graduates, faculty
As it neared time for the processional to open the University of Delaware Commencement ceremonies, graduating students and faculty members shared their feelings about what the event means to them.
Doctoral hooding
It was a day of triumph, cheers and collective relief as more than 160 students from 21 nations participated in the University of Delaware's Doctoral Hooding Convocation held Friday morning on The Green.
Behind the Beautiful Forevers, published by Random House, zooms in on the people in Annawadi, India, a makeshift slum next door to -- but a world apart from -- Mumbai, with its luxury hotels where the well-connected kick up their heels at Bollywood parties.
The book details the hardscrabble existence of a handful of residents among the 3,000 people who are "packed into, or on top of, 335 huts." Formerly a snake-infested bog cleared by workers from Tamil Nadu, Annawadi sits supposedly out of sight behind a concrete wall where the words "Beautiful" and "Forever" highlight ads for yellow ceramic tile.
Behind the Beautiful Forevers represents three and one-half years of reporting on the people of Annawadi and their dreams of moving on up to what they call "the full enjoy."
A staff writer at The New Yorker, Boo formerly worked for the Washington Post, where her reporting series on group homes for people with intellectual disabilities won the 2000 Pulitzer Prize for Public Service. Other awards for Boo include a MacArthur Fellowship and a National Magazine Award for Feature Writing.  Behind the Beautiful Forevers is her first book. 
The First Year Common Reader program seeks to engage incoming students in a meaningful conversation with their fellow students. The program also affords freshmen the opportunity to share in the intellectual life of the entire UD community.
Faculty who are interested in teaching a First Year Seminar can contact Avron Abraham at avron@udel.edu.
For more information on the common reader and other First Year Experience programs, see the website.
Article by Jerry Rhodes