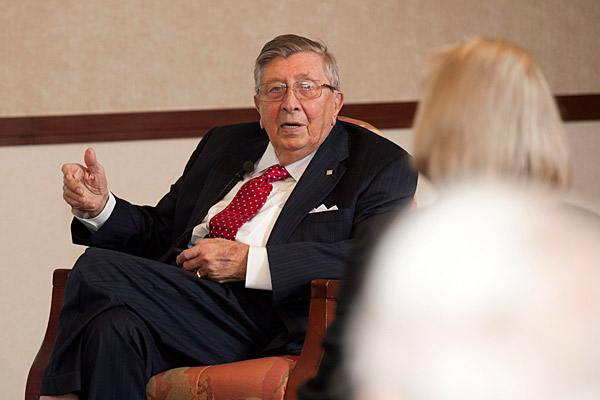 UDARF lecture
Böer highlights solar research efforts to retired UD faculty
2:52 p.m., April 23, 2012--In the stark days of post-World War II Berlin, Karl Wolfgang Böer made a chance discovery that changed the way the world looks at the sun as a viable energy source.
The solar energy pioneer recalled his career as a scientist, teacher and author with members of the University of Delaware Association of Retired Faculty during its My Intellectual Journey lecture program held Thursday, April 12, at the Courtyard Newark hotel on campus.
'Resilience Engineering'
The University of Delaware's Nii Attoh-Okine recently published a new book with Cambridge University Press, "Resilience Engineering: Models and Analysis."
Reviresco June run
UD ROTC cadets will run from New York City to Miami this month to raise awareness about veterans' affairs.
Böer, Distinguished Professor Emeritus of Physics and Solar Energy and founder of UD's Institute of Energy Conversion, began his intellectual and cultural journey as a student at Humboldt University in his native Germany.
"We had very little equipment in our department, so we had to build things from scratch," Böer said. "I was just looking around the laboratory to see what was left. I opened a drawer and saw some yellow crystals and wondered what they were. It turned out that they were cadmium sulfate."
Research on cadmium sulfate by Böer and his group of 100 students and associates at Humboldt University resulted in the discovery of seeing an electric field within a crystal.
Böer received his doctorate from Humboldt's Institute of Physics and later served as director and chaired professor.
Finding himself at the epicenter of the Cold War, Böer said that living in Spandau, West Berlin, and working in East Berlin became increasingly untenable on Aug. 13, 1961, when the German Democratic Republic began erecting the Berlin Wall.
"This forced a decision on my part about emigrating," Böer said. "I became a guest professor at New York University in 1961, and was invited by Ferd Williams to come to UD in 1962."
Following the encouragement of Williams, who chaired the Department of Physics and Astronomy from 1961-77, Böer secured funding from National Science Foundation and electric power utilities that led to the establishment of the Institute of Energy Conversion in 1972.
"Ferd Williams urged me to write contract proposals," Böer said. "They were accepted, and I had the money to buy the necessary research equipment. The nucleus of my group at UD was formed."
Böer envisioned using thin film photovoltaic cells coupled with thermal conductors as a clean and inexpensive way to supply power to individual residences.
Solar One, the first house to directly convert sunlight into both heat and electricity for domestic use, was dedicated on the UD campus in 1973.
"This was the first solar systems house," Böer said. "Every temperature and air flow was measured. We learned a lot from Solar One." 
Böer, who holds 28 patents in solid-state technology, is the author of Survey of Semiconductor Physics (2002), published by Wiley-Interscience. 
With over 300 articles on solar energy conversion and solid-state physics, Böer also is the founding editor of Physica Status Solidi: The International Journal of Solid State Physics.
Böer donated the Karl Wolfgang Böer Papers to the University of Delaware Library and a named professorship, the Karl and Renate Böer Professor of Materials Science Engineering, honors him and his wife. The University's highest award, the UD Medal of Distinction, was awarded to Böer in 1998.
The Karl Böer Solar Energy Medal of Merit was created by UD in 1987, and the first recipient in 1993 was former President Jimmy Carter.
Returning to his native city after the Berlin Wall fell on Nov. 9, 1989, Böer said he visited the WISTA Science and Technology Park in Berlin-Adlershof. 
"I was asked to represent WISTA to UD," Böer said. "I also saw many of my old students, who were now professors, and they invited me to give a paper to the German Physical Society." 
The Life of the Solar Pioneer Karl Wolfgang Böer (iUniverse, Inc., in 2010, with the assistance of Ester Riehl), chronicles Böer's scientific contributions.  
Describing himself now as a gentleman farmer living in Florida, Böer thanked the University and all those who helped him through the difficult transition from Germany to America.
"I thank you all for giving me the opportunity to talk about my life and my intellectual odyssey," Böer said. "I also thank my wife, Renate, without whom I wouldn't have been able to do all these things."
Article by Jerry Rhodes
Photo by Kathy F. Atkinson