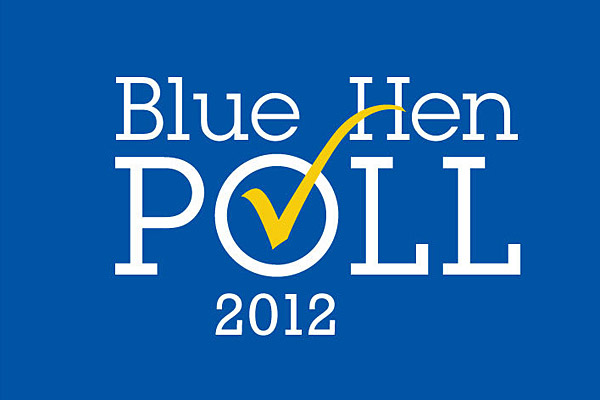 May 3: Blue Hen Poll results
Results of fifth annual Blue Hen Poll to be released
9:46 a.m., April 23, 2012--The results of the fifth annual Blue Hen Poll will be announced at 9:30 a.m., Thursday, May 3, in Multipurpose Room C of the Trabant University Center.
David C. Wilson, associate professor of political science and international relations and Blue Hen Poll faculty supervisor, said the presentation will last about 45 minutes, with 15 minutes for questions and answers.
From graduates, faculty
As it neared time for the processional to open the University of Delaware Commencement ceremonies, graduating students and faculty members shared their feelings about what the event means to them.
Doctoral hooding
It was a day of triumph, cheers and collective relief as more than 160 students from 21 nations participated in the University of Delaware's Doctoral Hooding Convocation held Friday morning on The Green.
Wilson said the results of the 2012 poll are particularly important because it includes oversamples of racial minority groups on campus and thus provides a better sense of racial-ethnic differences in opinions.
Questions asked in the poll include the following:
Do students believe UD values diversity?
Should UD's campus be smoke free?
Why do students choose to come to UD?
What sustainability activities would students support for $25 a semester?
What do students think about the Wings of Hope statue in Mentor's Circle?
At this stage, who are students supporting for the 2012 presidential election?
Are students willing to donate money or time to UD when they graduate?
Wilson said other professors are invited to bring their classes to the event as a field experience. Those who would like to bring a class should RSVP to bluehenpoll@udel.edu so organizers can make sure there is seating available.