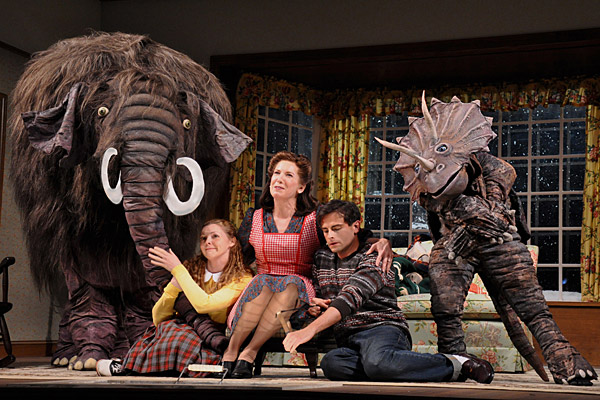 April 19-May 5: Thornton Wilder classic
REP presents 'The Skin of Our Teeth'
10:54 a.m., April 18, 2012--The Resident Ensemble Players (REP) conclude the 2011-12 season with Thornton Wilder's Pulitzer Prize-winning The Skin of Our Teeth, a charmingly quirky and timely tale of humankind's ability to face adversity and disaster but still come back swinging.
From April 19-May 5, in the Roselle Center for the Arts' Thompson Theatre, woolly mammoths, Atlantic City showgirls and end-of-the-world warfare provide the backdrop for the Antrobus family's wild and raucous tour of humanity through the ages.
June 5: Blue Hen 5K
University of Delaware graduates planning to attend Alumni Weekend are encouraged to register for the annual Blue Hen 5K walk and run, which will be held Sunday morning, June 5.
June 6-9: Food and culture series
The 20th annual June Lecture Series at the Osher Lifelong Learning Institute at UD in Wilmington will be held June 6-9. Titled 'June a la Carte,' this year's program focuses on great political documents, feminism, world politics and a Newark cuisine sampler.
"Wilder's play is certainly relevant in today's world," said Sanford Robbins, director of the production and artistic director of the REP. "It's timely to present a play that shows how humans have persisted in the face of enormous adversity. By combining the ordinary with the extraordinary, Wilder presents a piece that is wonderfully funny and very inspiring and uplifting, even in its darkness. He addresses that 'something' which is available to us, at any moment, at any time, that allows us to conquer any dire circumstance, albeit, by the skin of our teeth. It truly is a spectacular piece of theatre, and I think REP audiences will be wowed by the production."
Performances run from Friday, April 20, through Sunday, May 23, with a preview performance on Thursday, April 19. Tickets are $19 - $25, with discounts for students, seniors and University of Delaware faculty and staff.
Tickets can be purchased by calling the REP box office at 302-831-2204, in person at the Roselle Center for the Arts, 110 Orchard Rd., Newark, or online at www.rep.udel.edu.
Performances of The Skin of Our Teeth are at 7:30 p.m. on April 19, 20, 21, 26, 27, 28, and May 5 and 6; and at 2 p.m. on April 21, 28, 29 and May 5.
Prior to the April 28 matinee performance at 1:15 p.m. is the REP Prologue with A. Tappan Wilder, Thornton Wilder's nephew, literary executor and the manager of Thornton Wilder's literary and dramatic properties. The Prologue is free for ticket holders to that date's matinee performance.
A talk-back with the cast will take place after the evening performance on April 26.
The Roselle Center for the Arts is located at 110 Orchard Rd., on the corner of Orchard Road and Kent Way, in Newark, Delaware. A convenient parking garage is attached to the center. 
A complete schedule, directions and information on purchasing tickets can be found at the REP's website, or by calling the REP's box office at 302-831-2204.