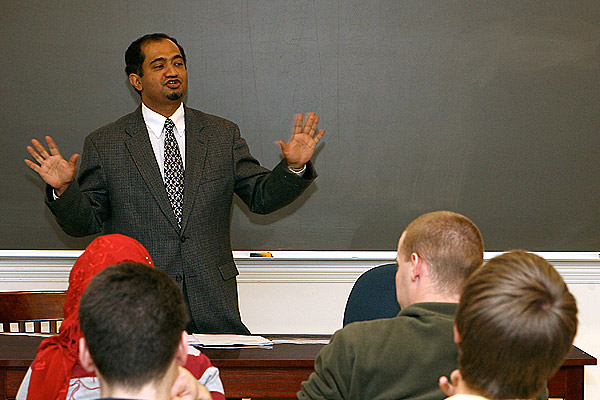 April 26: Talk on India, Pakistan
Muqtedar Khan to discuss 'Culture and Politics in South Asia'
4:46 p.m., April 20, 2012--A free, public lecture on "Culture and Politics in South Asia" will be presented from 7-8:30 p.m., Thursday, April 26, by the Osher Lifelong Learning Institute and the Delaware/Lahore/Delhi Partnership for Peace. The event will be held at Arsht Hall on the University of Delaware's Wilmington Campus, 2700 Pennsylvania Ave.
Speaking will be Muqtedar Khan, associate professor of political science and international relations at the University of Delaware.  
June 5: Blue Hen 5K
University of Delaware graduates planning to attend Alumni Weekend are encouraged to register for the annual Blue Hen 5K walk and run, which will be held Sunday morning, June 5.
June 6-9: Food and culture series
The 20th annual June Lecture Series at the Osher Lifelong Learning Institute at UD in Wilmington will be held June 6-9. Titled 'June a la Carte,' this year's program focuses on great political documents, feminism, world politics and a Newark cuisine sampler.
He will discuss the convergence of culture and diversion of politics in India and Pakistan. He also will explore the idea of peace between the two nations and will highlight important factors such as religious fundamentalism, international migration and nuclearization.  
Khan is the founder of UD's Institute for Islamic Studies, serving as director from 2007-10. A current fellow at the Institute for Social Policy and Understanding, he has authored three books and is a current contributor to BBC, CNN and NPR, as well as newspapers in more than 20 countries.
The Delaware/Lahore/Delhi Partnership for Peace was founded in July 2011. As a nonprofit nongovernmental organization, it is committed to establishing mutual goodwill, cooperation and diplomacy between citizens of Delaware;  Lahore, Pakistan; and Delhi, India. The partnership seeks to do so through dialogue, programs and cultural performances as well as community outreach.  
The Osher Lifelong Learning Institute at the University of Delaware in Wilmington is a learning cooperative for adults over the age of 50 who wish to continue academic learning without the requirements of grades or exams.  
Event cosponsors include BTL Foundation for International Services; Center for Global and Area Studies, University of Delaware; Delaware International Trade and Development Office; Islamic Studies Program, University of Delaware; Pacem in Terris; Pakistani American Society of Greater Delaware Valley; Tarbiyah Islamic School of Delaware; Wilmington Friends School; and World Trade Center Delaware.                                         
Article by Andrew Coyle
Photo by Kathy F. Atkinson