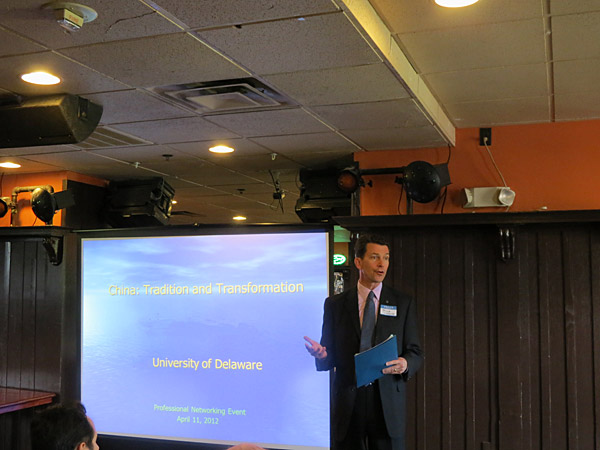 Doing business in China
IGS helps organize event in advance of delegation trip to China
9:43 a.m., April 20, 2012--The CEOs of several Delaware-based companies attended a networking event to learn more about doing business in China on April 11 at Deer Park Tavern in Newark. The event was organized by the University of Delaware Institute for Global Studies (IGS), the state of Delaware and the Delaware World Trade Center. 
Matthew Robinson, IGS director and professor of business at UD's Alfred College of Business and Economics, Bruce Weber, dean of the Lerner College and professor of economics, and Jianguo Chen, director of UD's Confucius Institute, spoke about challenges and future interactions in trade and business with China.
Fulbright awards
Three University of Delaware students and an alumna have received word this spring that they will travel abroad as part of the newest class of Fulbright Student Program award winners.
Peace Corps plans
Two University of Delaware students, John McCarron and Bridgette Spritz, have been selected as Peace Corps volunteers and will serve in Ghana and Rwanda.
CEOs from a number of Delaware companies attended, including Analytic Inc., ANP Technologies, Autoport Inc., Batta Environmental, Industrial Valves & Fittings, M&P Associates, MIDI Inc., Moby's Media, SKY Inc., The Soap Fairy LLC, Spearman Company, Spectrum Magnetics, Superficial Fluid Technologies and Testatrix Inc. 
Representatives of these companies will visit China, May 5–11. The delegation will travel first to Shanghai and meet with their Chinese contacts in the cities of Ningbo and Hangzhou. They will conclude their trip in Beijing before returning to the U.S.
John Pastor, director of International Trade and Development for the state of Delaware, will accompany the delegation as part of the STEP (State Trade and Export Promotion Program) Trade Mission to China. He has been traveling to, and doing business with, China since the early 1980s.  
"This event offered a great opportunity for the business community, the State Trade Office, the World Trade Organization and the University to collaborate and to expand the global reach of all parties involved," Robinson noted. "I wish the trade delegation great success on the trip and look forward to working together again on future projects."  
The evening also offered UD students the opportunity to network with Delaware-based companies who are involved in the global business community.  
Article by Fariba Amini