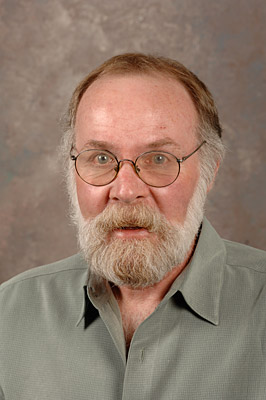 In Memoriam
Fritz Szabo, associate professor of theatre, dies
10:17 p.m., April 19, 2012--Fritz Szabo, 64, an associate professor of theatre at the University, died March 8 in Newark. 
"We are all very saddened by Fritz's passing and the tremendous hole he leaves in the Department of Theatre," said Sandy Robbins, chairperson of the department. "Fritz both designed and painted sets for a number of our productions, such as Shaw's The Doctor's Dilemma and Candida. Beyond his exceptional artistic ability, he had a fierce dedication to his students and they to him. Fritz had a delightful sense of humor and wonderful way with young people that showed them they were capable of wonderfully artistic things, in spite of their own uncertainties. He will be sorely missed." 
"Fritz was an extraordinary designer and colleague," said William L. Browning, professor of theatre at UD. "Oddly enough our favorite topic was sports, as he and I frequently traded stories about current events in college level athletics and about UD athletics in particular. I felt his absence keenly during the most recent 'March Madness.' Some of Fritz's more memorable design credits include Henry V at the Delaware Theatre Company, the REP production of Top Dog/ Underdog, and the PTTP productions of Rosencranz and Guildenstern Are Dead, St. Joan, Candida, Doctor's Dilemma and Adrian Hall's original two evening production of All the King's Men."
"Fritz's teaching method was to infuse learning with a sense of levity and grace," said Nate Brennan, a 2005 UD graduate and one of Prof. Szabo's students. "He taught me to approach students as if we were all on a level playing field, to be firm while also being kind and respectful. For Fritz, teaching was an endeavor we were all part of. We were all learning. Fritz showed his students that they were capable of doing great things despite their doubts; sometimes they just needed a gentle push in the right direction."
Prof. Szabo earned his bachelor's degree in directing from Emerson College and an M.F.A in design from Syracuse University. According to his family, he was "very fortunate he was able to do what he loved to do every day, teach and create beauty through his many artistic abilities."
Part of UD's Professional Theatre Training Program technical production faculty for the last 11 years, Prof. Szabo previously taught and designed at the Boston Conservatory, Colgate, Syracuse, Iowa State, Elon, Southern Illinois and Duke universities, the universities of North Carolina at Greensboro and Northern Iowa and Le Moyne College. 
His design credits include Trinity Repertory Company, Freedom Theatre, Delaware Theatre Company, the Kennedy Center, Glimmerglass Opera, the North Carolina and Pennsylvania Shakespeare Festivals and the Nashville Opera. 
Prof. Szabo is survived by his wife, Linda Sabo; children, Martin Joshua Sabo and Rachel Sabo Branson and her husband, Ned Branson III; grandchildren, Garrett Lee Branson and Abigail Rose Branson, and other family members. 
Memorial contributions may be made to Susan G. Komen for the Cure, Broadway Cares: Equity Fights AIDS or the American Lung Association.