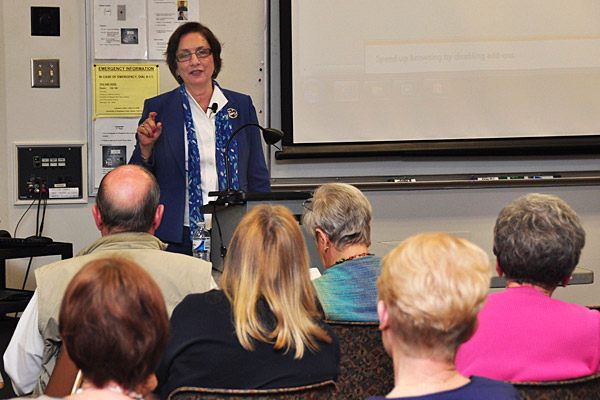 Selected artworks
Osher Lifelong Learning partners with Delaware Art Museum in spring series
10:22 a.m., April 20, 2012--One hundred years ago, it wasn't just the rare four-way presidential election that took people by storm. In March of 1912, an exhibition of American painter (and Delaware native) Howard Pyle's work at the DuPont Building in downtown Wilmington drew crowds five to six people deep.  So thick were the crowds at the exhibition, which followed Pyle's untimely death in November of the previous year, that a woman was asked to remove her hatpin or walk with her head tilted, for fear that the crush of people might cause the pin to skewer one of Pyle's artworks. One "ragged and tousled" little boy, questioned as to why he was in line a second time, responded, "Can't you see 'emtwicet?"
Pyle's vivid paintings are just some of the pieces that Danielle Rice, executive director of the Delaware Art Museum, explores this spring as she takes a personal look at some of the museum's major works and most accomplished artists in a 13-week series on the University of Delaware's Wilmington campus. 
From graduates, faculty
As it neared time for the processional to open the University of Delaware Commencement ceremonies, graduating students and faculty members shared their feelings about what the event means to them.
Doctoral hooding
It was a day of triumph, cheers and collective relief as more than 160 students from 21 nations participated in the University of Delaware's Doctoral Hooding Convocation held Friday morning on The Green.
The "Director's Delights" Spring Series takes place at UD's Osher Lifelong Learning Institute. Each Friday, Rice discusses one of the museum's paintings in depth and also examines it within the art, history and culture of its time. 
The "Director's Delights" program has drawn large crowds of Osher Lifelong Learning members as well as the public, with 150 to 200 people at each lecture. 
The talks are designed to entertain and enlighten all levels of art enthusiasts. Selected pieces cover a range of time periods and art movements, from Edward Hopper's iconic oil rendering Summertime to the wildly expressive and sometimes controversial art of Robert Colescott.
As host to "Director's Delights," the Osher Lifelong Learning Institute at UD joins the Delaware Art Museum in celebration of its 100th anniversary. The museum was founded in 1912 to honor Howard Pyle and preserve his work. "I'm thrilled to have Osher Lifelong Learning as a Centennial Partner and I look forward to a lot more collaboration in the future," Rice said. "I have really enjoyed presenting the Director's Delights lectures at Osher this spring. The students are wonderful." 
Recently, after one of Rice's Friday lectures, 50 Osher Lifelong Learning members attended a tea and cookie reception at the museum and took a docent-led tour of the permanent collections.
"Many people who attend Osher classes and activities rarely or never visit the Museum -- which is only 1 mile away," said Molly Keresztury, manager of marketing and public relations at the museum. The spring series and the tea tour have introduced new people to both institutions. By making this series free and open to the public and encouraging Osher members to "bring a friend," the partnership also seeks to engage the entire UD population and the community at large.
"Both the museum and Osher Lifelong Learning are vibrant places where community members meet, share ideas and pursue learning at all ages," said Jim Broomall, UD's assistant provost for Professional and Continuing Studies. More collaborative events are being planned for next year.
For more information on the "Director's Delights" Spring Series, visit www.lifelonglearning.udel.edu/wilm or call 302-573-4417. 
Upcoming programs will focus on Spring Rain by John Sloan on April 27, Summertime by Edward Hopper on May 4 and Big Bathers: Another Judgment by Robert Colescott on May 11. 
The Osher Lifelong Learning Institute at the University of Delaware in Wilmington (formerly the Academy of Lifelong Learning) is a membership organization for adults 50 and over to enjoy classes, teach, exchange ideas and travel together.
Article by Kathy Maas