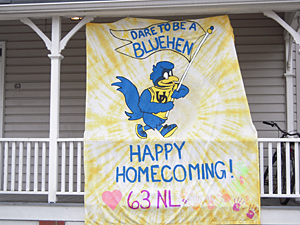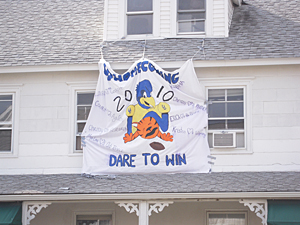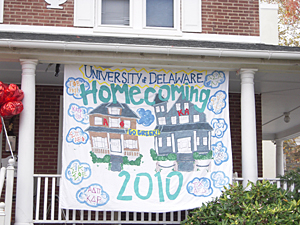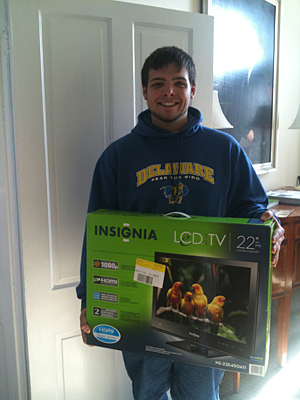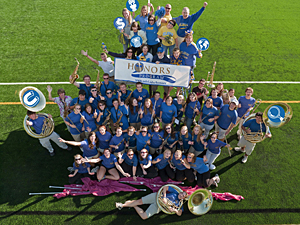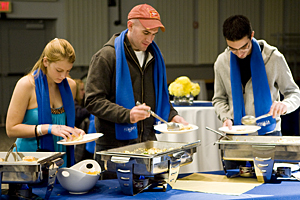 6:45 p.m., Nov. 9, 2010----The University of Delaware capped off its festive Blue and Gold Week with a winning weekend as the Fightin' Blue Hens routed Towson 48-0 at Saturday's Homecoming game before an enthusiastic crowd of more than 21,600 in Delaware Stadium.
The members of the football team weren't the only winners in this year's Homecoming festivities.
"The University of Delaware has a long and rich Homecoming tradition," Cindy Campanella, director of alumni relations, said. "This year, we wanted to build on that tradition by encouraging all parts of the campus community to get involved all week long through a wide range of spirit-building and fun activities.
"The campus looked its best with blue and gold lighting on our signature buildings, and our Homecoming banners were prominently displayed around the city of Newark. I'm really proud of the participation and excitement across campus this year."
Spirit sheet contest
Students displayed their spirit around town by designing banners and hanging them on their homes and apartments. The winning banner, which features YoUDee carrying a sign that says "Dare to be a Blue Hen," was organized by Abagail Riggins, a senior in the College of Education and Human Development. First-place prize is a $150 gift certificate to Pathmark.
Spirit Stations
Throughout the week at various locations, students won prizes for demonstrating their Blue Hen apparel or accessories. If students were wearing Blue Hen apparel or accessories, they received EyeBlacks and rally towels for the football game and had the opportunity to enter a raffle for a 22-inch LCD flat screen television. The winner of the television was junior Tony Battaglia.
Office spirit
UD employees had the opportunity to demonstrate their school spirit, too, in a special "Dare to show more spirit" contest. In all, 27 offices and departments-in Newark, Dover and Lewes--submitted photos of themselves demonstrating their Blue Hen spirit by wearing spirit apparel and accessories. More than 7,000 online votes were cast in the competition, and the winning entry, the Honors Program, will get a catered lunch this week.
Blue Hens on Main
Homecoming's newest tradition for alumni is Blue Hens on Main, which includes a tour of Main Street and a late night breakfast buffet. More than 160 attendees arrived on Friday evening to meet and catch up with friends before heading out to Main Street. Each person received a complimentary scarf sponsored by the UD Alumni Association and Liberty Mutual that they used to keep warm when visiting each venue. At 12:30 a.m., all alumni were invited back to Trabant University Center for a late-night buffet where a UD waffle station was available with fried chicken, eggs, a breakfast sandwich bar and other assorted breakfast foods.
Outstanding Alumni Awards & T. Muncy Keith Award
Vance Funk, BE '65, and John Gooden, EG '88, are the 2010 recipients of the UDAA Outstanding Alumni Award. Presented each Homecoming Weekend by the University of Delaware Alumni Association, this award is given to UD alumni who have exhibited exceptional volunteer work on behalf of the University of Delaware and/or the University of Delaware Alumni Association. Both were honored on the field at halftime during the football game. In addition, the T. Muncy Keith Spirit Award was presented to Christa Carridi '11, a Student Alumni Ambassador who has the potential to make a great contribution to the organization as an alum. Click here for more information about the Student Alumni Ambassadors.
Presidential Citation
The newest recipients of the University of Delaware Presidential Citation for Outstanding Achievement awards were honored during a ceremony held Friday, Nov. 5, in the Roselle Center for the Arts, as part of Homecoming Weekend festivities.
For more photos of Homecoming 2010, visit UD in Photos on the UD homepage.