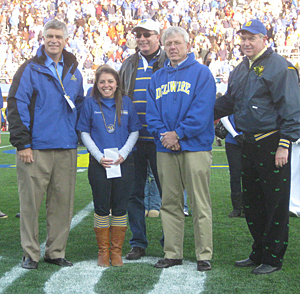 11:59 a.m., Nov. 10, 2010----Vance Funk BE '65 and John Gooden EG '88 are the 2010 recipients of the UDAA Outstanding Alumni Award.
Presented each Homecoming Weekend by the University of Delaware Alumni Association, this award is given to UD alumni who have exhibited exceptional volunteer work on behalf of the University of Delaware and/or the University of Delaware Alumni Association.
Funk has served the University as a volunteer on the Athletics Visiting Committee and volunteered on the Athletics Fundraising Steering Committee during the campaign to build the Bob Carpenter Center. Additionally, his commitment to the Department of Hotel, Restaurant and Institutional Management is exemplified by his leadership role in initiating the annual Taste of Newark event.
Gooden has consistently served the College of Engineering since graduation. He has supported countless gatherings of engineering alumni through mixers, socials and the college's annual golf outing. In addition, he served as president of the Engineering Alumni Association (EAA) and represented the group at many UD Alumni Association board meetings. Through his role as president, Gooden worked to raise additional funds for the EAA Scholarship endowment.
Alan Brayman BE '73, president of the UD Alumni Association, said that both Funk and Gooden exemplify alumni who have remained engaged with the University since graduation and work for the betterment of UD.
"The Outstanding Alumni Award ceremony is a wonderful tradition at Homecoming and is one of many examples of the how the UDAA recognizes outstanding Blue Hens for their dedication to the University. This award supports the UDAA mission to actively engage and support alumni in a lifelong relationship with the University of Delaware," Brayman said after the halftime ceremony.