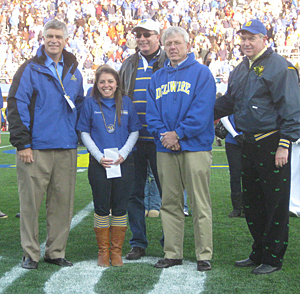 6:22 p.m., Nov. 9, 2010----Christa Cariddi, a senior visual communications major from Denville, N.J., received the T. Muncy Keith Spirit Award during halftime of the Homecoming football game on Saturday, Nov. 6.
"It is a great honor to receive the T. Muncy Keith Award at this year's Homecoming," Cariddi said. "The University of Delaware is a place I am so passionate about, and I love the opportunity to spend time with all the alumni who still feel that same passion years later. I plan on really striving to be an active and engaged alumna wherever I end up, because I am a Blue Hen for life."
The T. Muncy Keith Spirit Award is a $1,000 scholarship presented by the UD Alumni Association each fall to a Student Alumni Ambassador who has made or has the potential to make the greatest contribution to the organization.
Student Alumni Ambassadors encourage school spirit, foster connections between alumni and students, support the Office of Alumni Relations, serve as a student advisory board to the University community and aspire to be active UD alumni upon graduation.
Christine Scheirer, program coordinator for the Office of Alumni Relations, said Cariddi was a worthy winner among a group of outstanding candidates.
"I realize that it's a bit clichéd to say it, but it was a truly difficult decision to pick one student to honor from such a fantastic group," Schierer said. "It's a great reflection on Christa to have won the award, and she deserves it because she has made a big impact for not only the Student Alumni Ambassadors, but also as a representative of the entire student body."