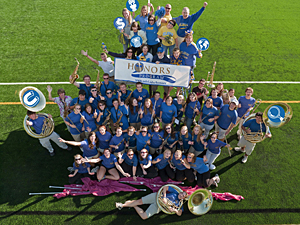 6:29 p.m., Nov. 9, 2010----After more than 7,000 votes were cast, the University Honors Program emerged as the winner of the first ever "Dare to show more spirit" photo contest.
More than thirty photos were submitted from groups on three different UD campuses, and, after a weeklong vote that was open to the public, the Honors Program was the winner of a lunch for the staff.
The contest, hosted by the Office of Alumni Relations, was a part of the festivities during Blue and Gold Week, leading up to Homecoming Weekend 2010.
Katharine Kerrane, senior associate director of the Honors Program, said their winning photo was a collaboration between Honors and the Marching Band. The original plan was to include some members of the Marching Band, but after consulting with Heidi Sarver, Marching Band director, the scope of the project grew.
"Heidi Sarver was great because we were thinking of just having some band members, and she suggested that we have all the Honors Program band members in the photo," Kerrane said.
The photo was taken after the band's practice on Frazer Field and included more than 40 students plus over a dozen Honors employees. The photographer had to get in Sarver's scissor lift in order to get everyone in the photo.
Patricia Fitzgerald, associate director of alumni relations, said she was particularly impressed with the Honors Program's efforts to encourage voting.
"The submissions were all wonderful, and I really enjoyed seeing them come in one-by-one," Fitzgerald said, "It was really great to see the Honors Program pull out all stops to market their participation in the contest."
Kerrane said that a link encouraging votes was posted to the program's Facebook page and that Honors Program staff members posted it to their personal pages as well. In addition, Michael Arnold, director of the Honors Program, sent emails to students and faculty about the contest.
"Michael emailed all the Honors Program students encouraging them to vote, and all Honors Program faculty members were also emailed," Kerrane said. "Heidi Sarver also emailed the entire Marching Band to get them to vote for their fellow band members."
In the end, Fitzgerald said she was proud to see the entire UD community rally behind the contest and is already looking forward to next year's submissions.

"It is wonderful to have so many colleagues who care so much about the place where they work," she said. "and I dare all the colleges, departments and programs across all five campuses to show us their spirit in 2011!"