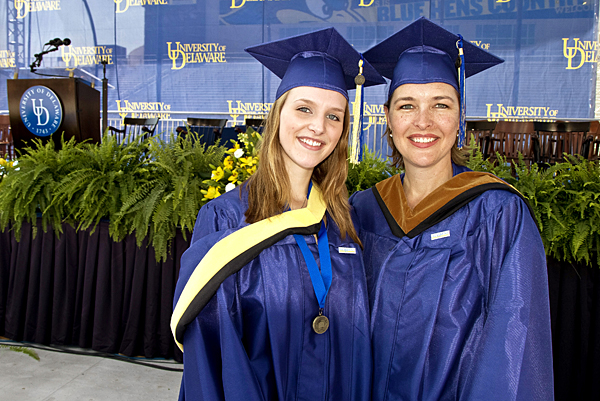 Mother, daughter share Commencement
Mother-daughter duo Patty and Amanda Welch graduate together
4:33 p.m., May 28, 2011--For Patty and Amanda Welch, University of Delaware Commencement was an extra special day.  While most parents looked on and cheered their children as they received their diplomas on Saturday, May 28, the mother-daughter duo were each other's greatest cheerleaders as they graduated together.
"I am very excited and grateful to Amanda for sharing this experience with me," said Patty Welch, who will graduate with a bachelor's degree in accounting from the Alfred Lerner College of Business and Economics.  "A few years ago I was planning out my schedule and realized by squeezing in a few extra classes I could graduate with her. She seemed to like the idea, too."
From graduates, faculty
As it neared time for the processional to open the University of Delaware Commencement ceremonies, graduating students and faculty members shared their feelings about what the event means to them.
Doctoral hooding
It was a day of triumph, cheers and collective relief as more than 160 students from 21 nations participated in the University of Delaware's Doctoral Hooding Convocation held Friday morning on The Green.
Amanda Welch, who will graduate from the College of Agriculture and Natural Resources, said she is proud of her mother for going back to school and finishing her degree while also working full time.
"I know she worked hard to take enough classes while also working full-time to be able to graduate with me and I know she's excited about it," she said.
Amanda Welch acknowledged that it felt unique to be graduating with her mother. "Not many people are in college at the same time as their parents, let alone at the same university," she said.
According to Patty Welch, another generation will also be sharing the experience. "My mother waited almost 20 years for this, and she will be flying in to finally see my graduation with the added benefit of seeing Amanda graduate, too," she said.
Busy schedules
Seven years ago, Patty Welch secured a job at the New Bolton Center of the University of Pennsylvania's School of Veterinary Medicine. A benefit of her job was tuition assistance, which prompted her to take advantage of the opportunity to go back to school.
"My older children were in high school and looking at colleges and majors which inspired me to go to school, too," she said.
James Orsini, associate professor of surgery and director of the Laminitis Institute at Penn Vet, said Welch played a key role in the development of a comprehensive business plan for Equi-Assist, an innovative new program for home care nursing for horses. "We are delighted to have Patty as part of the 'A' Team," said Orsini. "With her well-earned B.S. in accounting, Patty will continue to be a wonderful contributor to the betterment of equine health at New Bolton Center."
Orsini also spoke highly of Welch's work ethic, noting that in addition to full-time work and earning her degree, she was busy raising three children, spending quality time with her husband, Dan, and kayaking Class 3 and 4 rapids to "stay fit and clear her mind of some of the cobwebs from studying and working long hours."
When asked how she fit the work into her schedule, Welch noted it was a challenge but she was able to do it with early morning, late evening and weekend study sessions, flexible hours from her employer to coordinate with classes and the support and understanding of her family.
It also helped that the lessons she was learning were applicable to her everyday work life.
"It was thrilling to see how what I was learning in class applied to my job," said Welch. "Several times I would attend a class and then relate it directly to my work the next day. It was exciting to bounce ideas off my professors and bring the information back with me."
Despite busy schedules, Welch said she and her daughter also tried to be "green," adding, "We even tried carpooling a couple semesters but coordinating classes and schedules was a challenge."
Like mother, like daughter
Amanda Welch, who will graduate with a bachelor's degree in pre-veterinary medicine and animal bioscience and a minor in biology, is also interested in veterinary medicine. 
The ambitious student plans to head to North Carolina State University College of Veterinary Medicine to pursue a doctorate of veterinary medicine and a doctorate in pathology or cell biology, with the long-term goal of launching a career in veterinary biomedical research.
Welch said she highly recommends CANR for anyone who wants to continue on to veterinary school. 
"All the classes are great -- applicable, challenging and hands-on -- and prepare students for graduate school really well," she said.
In particular, Welch spoke highly of Robert Dyer, associate professor in the Department of Animal and Food Sciences, for giving her a great amount of experience in undergraduate research and for being "an excellent mentor, adviser and professor."
Patty Welch also spoke highly of the education she received in the Lerner College, and noted that the knowledge and skills she gained will benefit her department and help her advance her career.  
Going back to school also inspired her desire to learn, she said, adding, "I would like to continually expand my knowledge and experience and I hope to eventually go on to get my MBA. "
Patty Welch was also quick to note that she learned from her daughter, as well.
"Amanda is very dedicated to her studies and was an inspiration to me to challenge myself for the best grades I could manage," she said. "We could empathize with each other about frustrations with school work or grades and give each other advice. We also learned how to deal with each other during stressful periods like at finals. It was great to be able to talk and support each other."
Article by Kathryn A. Marrone and Adam Thomas
Photo by Mark Campbell