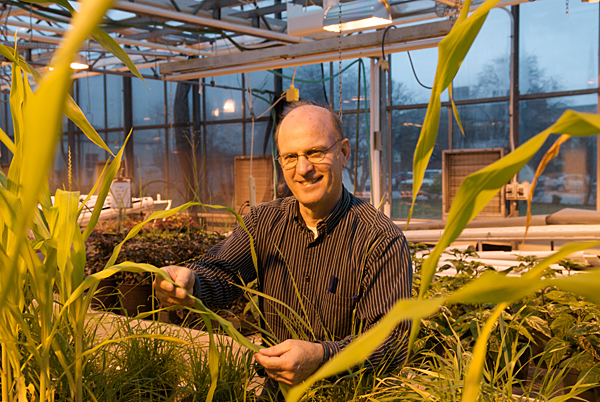 Crop expert
Taylor helps farmers by testing products, leading crop management school
2:34 p.m., May 9, 2011--Richard Taylor, a University of Delaware Cooperative Extension agronomy specialist, has been helping farmers near and far, both as a consultant focused on finding the truths behind product claims and by participating in classes geared toward professionals in the business of crop production.
Taylor said his main focus in checking product claims is testing items "that are designed to supposedly help a particular problem."
'Resilience Engineering'
The University of Delaware's Nii Attoh-Okine recently published a new book with Cambridge University Press, "Resilience Engineering: Models and Analysis."
Reviresco June run
UD ROTC cadets will run from New York City to Miami this month to raise awareness about veterans' affairs.
One such product was a fertilizer that was supposed to boost yields in soybean and corn. "Not only did we find that the product didn't work in this region," Taylor said, "but the nice thing was that the people producing it took it off the market here so it actually saved growers a lot of money."
With that particular product, Taylor worked with the Mid-Atlantic Regional Agronomist Committee, and the product was tested in Maryland, Virginia, Ohio and Pennsylvania and then in Delaware.  All the results were consistent. 
Taylor said the testing of products is a complicated process and just because a product doesn't work here doesn't mean that it won't have success in other parts of the world. For instance, while the fertilizer did not work as advertised around the Mid-Atlantic, it did work in Mexico, where it boosted yields in some corn varieties with older genetics. 
Taylor stressed that it is especially important now for growers to spend their money wisely on products that work as advertised because of the high crop prices. "When corn was two dollars a bushel, wheat was four dollars a bushel, you couldn't sell anything to a farmer that would boost yield," he said. "They weren't interested in boosting yields, they were interested in reducing costs.  With the current high commodity prices, farmers are more willing to listen to product claims, but if a claim is valueless, it still reduces profitability. So our testing program is another way to help farmers reduce costs without affecting production, essentially, trying to boost profitability." 
Taylor said he is now working with a root-enhancing seed coating on soybean varieties to see if it will perform on the East Coast as advertised.
In additional to product testing, Taylor will assist growers for the next two years by serving as the chairman of the planning committee for the Mid-Atlantic Crop Management School, a two and a half day program geared at professionals in the business of agriculture.
Offering courses on crop management, nutrient management, pest management, soil and water management, professional development and possibly food safety, the school allows growers to stay up to date on new or improved growing practices. 
The school usually occurs the week before Thanksgiving in Ocean City, Md., and the majority of people who attend are certified crop advisers -- experts in agronomy who provide advice to farmers. 
Explaining the role of the certified crop advisers, Taylor said, "A farmer has to have a number of written plans, such as a nutrient management plan and a conservation plan. To get them written, they often go to certified crop advisers."
The certified crop advisers are required to earn 40 credits every two years, and those credits only last for the two years and then they have to start all over again. Within those 40 credits, the certified crop advisers must have 5 credits in each of four management categories: pest, crop, nutrient, and soil and water management. 
The remaining participants who attend the school include county, regional and state Cooperative Extension agents, government employees in the Natural Resource Conservation Service (NRCS), the local soil and water conservation districts, and even a few farmers.
Around 200 to 250 people attend the school each year, and Taylor said that for this past year, he estimated $26.75 per acre "would be saved by the growers based on the information that their certified crop advisers got at the school and, based on the total acres represented, the economic impact of the school to the Mid-Atlantic farming community was about $29 million." 
The certified crop adviser program is managed by the American Society of Agronomy and includes state or regional boards such as the Mid-Atlantic Certified Crop Adviser board (MACCA) and the International Certified Crop Adviser (ICCA) program.
Article by Adam Thomas
Photo by Danielle Quigley