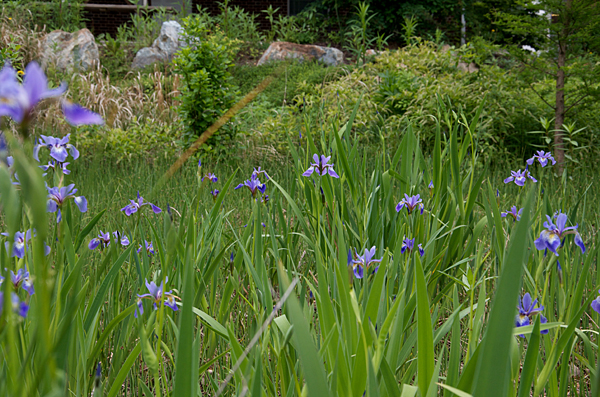 Water works
Create a backyard rain garden and help the region's bays
11:45 a.m., May 24, 2011--Want to do your part to help local rivers and bays? Create a backyard rain garden.
It's fairly easy to build your own rain garden and it can pay big dividends for nearby watersheds.
From graduates, faculty
As it neared time for the processional to open the University of Delaware Commencement ceremonies, graduating students and faculty members shared their feelings about what the event means to them.
Doctoral hooding
It was a day of triumph, cheers and collective relief as more than 160 students from 21 nations participated in the University of Delaware's Doctoral Hooding Convocation held Friday morning on The Green.
Stormwater runoff is one of the leading sources of pollution in waterways, according to Valann Budischak, a horticultural associate with University of Delaware Cooperative Extension. But rain gardens can be a great way to manage stormwater. Rain gardens are shallow depressions, planted with perennials and woody plants, which collect water from roofs, driveways, other impervious surfaces and turf grass (which, like a driveway, is lousy at absorbing water). 
Rain gardens slow down and reduce runoff and thus help prevent flooding and erosion. In addition, the garden's soil and plants filter pollutants in rainwater.
"Rain Gardens for the Bays" was launched last year to encourage homeowners to build rain gardens to improve water quality in the Delaware Bay, Delaware's inland bays and Maryland's coastal bays. Partners in the project include UD Cooperative Extension, the Delaware Department of Natural Resources and Environmental Control (DNREC), the Center for the Inland Bays, Delaware Nature Society and other agencies.
In addition to doing good, rain gardens look good. "Rain gardens are an attractive way to reduce impact on the environment," says Budischak. "And you don't need a huge property to have a rain garden."
She has seen successful rain gardens as small as 10 feet by 15 feet. On the other end of the spectrum, rain gardens on UD's Newark campus range from less than 1,000 square feet to more than 3,000. In addition, a large rain garden was installed on the Lewes campus last year, says Tom Taylor, UD's landscape engineer. 
Rain gardens were at UD long before the term "rain garden" was coined, says Taylor. He spearheaded the installation of a rain garden – at the time called a bio-retention basin – at the Dickinson residence complex in the early 1990s.
UD's rain gardens have always had an environmental function but now the gardens serve an educational role, too. "The key is signage," notes Taylor. "It's important to have signs at the rain gardens so that people know what they're looking at and understand how they can do something similar at home."
Taylor added plantings to a bio-swale at his Lewes home and used the campus gardens for inspiration. Plants on the exterior of a rain garden must tolerate both dry and wet conditions while plants inside the garden need to handle very wet conditions. (A rain garden's interior is designed to hold water for up to 48 hours.)
On the edges of a rain garden, Taylor likes native ornamental grasses, asters, goldenrod, blueberry bushes and red-twig dogwood. For the interior, he frequently chooses clethra, cardinal flower, iris, button bush and winterberry. Other options that Budischak suggests are turtlehead, Joe-Pye weed, dwarf fothergilla, sweetbay magnolia and river birch.
Living in Sussex County, Taylor doesn't have to contend with the single biggest obstacle to a successful rain garden – heavy clay soil. That's a problem most New Castle County residents must overcome because clay soil inhibits water infiltration. 
Taylor recommends replacing a foot and a half of heavy clay soil with a rain garden soil mix to improve drainage.
Other considerations in building a rain garden are size and location. Although it would seem logical to install a rain garden in a low area that doesn't drain well, this is a poor choice because it won't support plant growth. The ideal place for a rain garden, says Budischak, is gently sloping ground where stormwater drains off grass or impervious surfaces. 
Garden size depends on the size of the area from which you are capturing runoff, soil type and depth of the garden. Many homeowners seek professional advice about the garden's size and soil requirements before tackling installation and planting. UD Botanic Garden intern Rebecca Pineo created a how-to guide to rain gardens, which can be found online.
For more information about the Rain Gardens for the Bay program, go to the website.
Article by Margo McDonough
Photo by Danielle Quigley