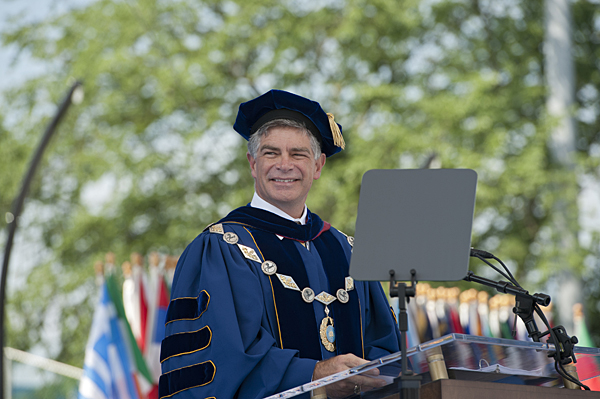 President's remarks
President Harker addresses UD's Class of 2011
5:02 p.m., May 28, 2011--University of Delaware President Patrick T. Harker addressed the Class of 2011 during Commencement exercises held Saturday morning at Delaware Stadium. Following are his remarks:
So this is a day four years or more in the making, and I couldn't be happier to celebrate it with you. I have a special connection to the Class of 2011. I arrived at this University just a couple of months before you did. So this is a bit like my graduation, too—even though I'm not going anywhere. 
From graduates, faculty
As it neared time for the processional to open the University of Delaware Commencement ceremonies, graduating students and faculty members shared their feelings about what the event means to them.
Doctoral hooding
It was a day of triumph, cheers and collective relief as more than 160 students from 21 nations participated in the University of Delaware's Doctoral Hooding Convocation held Friday morning on The Green.
When I talked with you at New Student Convocation four years ago, you were the first UD freshmen I ever addressed as a class. It seems like a lifetime ago. Just as you were getting to know—and then love—UD, I was, too.
And so, as one senior to another—but one with a longer view on certain things—I'm going to ask you to do something to honor your love for this University, its mission, and its ideals. And that's to be the global citizens we've prepared you to be.
That study-abroad sash you're wearing? Don't hang it up in the closet, and forget what it meant to you while you were here. Refuse to be isolated from the world. Refuse to be insulated.
In the last few months, you've seen longstanding regimes come undone. In North Africa and the Middle East, you've seen people rise up and demand a voice. You've seen rebellions topple governments in some countries and bring swift repression in others. We had students studying abroad in Egypt who were eye-witnesses to this Arab Spring—though what they described didn't sound a lot like flowers and sunshine. 
The whole world is changing—fast. Really, though, it's always been this way. Many of you were born the same year the Berlin Wall fell—and a whole political construct that I grew up with fell right along with it. You've seen the economic awakening of China. You'll see developing nations develop, and watch as communication, commerce, and migration continue to shrink our world. 
But with all apologies to Pulitzer Prize Winner Thomas Friedman—our Commencement speaker two years back—the world ISN'T flat. It's bumpy. And you need to know and respect those bumps. We run a huge risk if we don't try to understand different cultures and traditions—if we don't put the world into the context of its connections, and consider how countries and their people relate to one another—historically, geographically, politically, socially, economically, ideologically.
Our worldview is just that—it's ours. Other people think different things. They believe different things. They cherish different things.
And these are the very same people you'll be working with. They'll be your colleagues, your clients, your bosses, your employees. Not sometime in the future—but now—next week, next month. 
You're stepping into a whole new marketplace of ideas, opinions, and perspectives. You need to know how to navigate it. Employers tell us all the time what a global economy demands: people who can communicate and connect with others; who can inspire excellence and mediate conflict; people who can identify and achieve common goals; who can build relationships and rapport with people who look and act nothing like themselves.
And this is where owning your global citizenship comes in handy.
Many of you know Matt Watters, Alexander J. Taylor Award Winner and Rhodes Scholar. Many of you have donated time and money to his organization—Students for Haiti—helping rebuild a village hospital destroyed in that country's devastating earthquake last year. Matt's off to Oxford University, where he'll prepare for a career in global health policy—continuing the significant international work he's already started.
But maybe you don't all know Ken Adams, a Dean's Scholar and Phi Beta Kappa. Ken's 65 years old, graduating today with a degree in Political Science. He designed his own independent research project on Romania's entrance into the European Union. 
He taught himself the Romanian language, and traveled to the country eight times for in-depth study; he goes back again this summer. Ken's reported to various Romanian and EU committees on judicial corruption, poverty, discrimination, child trafficking, rural healthcare, and the condition of the country's orphanages. He's been honored for his work on behalf of human rights and human dignity for all.
I don't presume that all of you will immerse yourselves in different countries and cultures like Matt and Ken. But I do hope you'll have the curiosity to continue your global journey. I hope you'll continue to be invested in the world, its people and its communities, that you'll continue to go abroad—not as a tourist, but as a traveler—someone who feels obliged to know the world better.
I hope you'll reach for experiences and media that give you a different slant on things—a non-U.S. slant. I hope you'll talk to all sorts of people on this journey. But—more than that—I hope you'll listen. Really listen. 
… Like today's Commencement speaker, former Delaware Governor and U.S. Representative Mike Castle, who traveled the world for different perspectives on policy and diplomacy, and allowed those perspectives to inform his decisions. It's a wise—and courageous—stance.
This advice to open yourself up to the world isn't just for your benefit. It's for all of us. It's to build a better, more tolerant society—a society that thrives not despite its differences but because of them. It's to cultivate a generation of leaders who can think in new ways about our global problems—and imagine new solutions. It's to strengthen our shared community and re-envision exactly what we can achieve when we work across borders and biases.
I know these are lofty goals, and I know it'll take an uncommon group of people to achieve them. And that's why I know you're up to the task. You're uncommon. 
Did you think you were average? The average person in this world has six years of schooling. You just finished 16. The average person in this world will never make more than $12,000 a year. I don't care how bad this economy is—you'll do better than that. 
You're not average. You've been given advantages that most people around the world will never have. You've been given a real gift. And I want to thank some people in the audience for that. 
Could we give all the parents here today a round of applause?
Could we give the professors, the mentors, the advisors a round of applause?
But this gift is also bestowed by generations of Blue Hens who've gone before you and given back to this school, so that you have all the same advantages they did. Could we give the alumni delegates, and all the other Blue Hens in the stadium today, a round of applause?
Now you have an opportunity to honor your parents and your professors and your fellow Blue Hens—to use the precious gift they've given you in pursuit of awareness, understanding, and engagement. I hope you do.
Thank you and congratulations!
Photo by Evan Krape