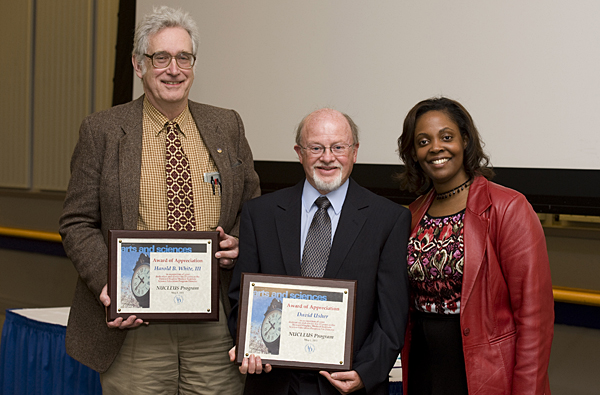 NUCLEUS celebrates
Program to foster diversity honors new graduates
1:12 p.m., May 6, 2011--With an 18-year history of supporting underrepresented minority students in their academic careers, the University of Delaware NUCLEUS program is adding 32 new names to its roster of 600-plus alumni.
The 32 members of the Class of 2011 were celebrated at the program's annual year-end dinner on Sunday, May 1, which also recognized the academic achievements of all program members. This year, 48 percent of NUCLEUS students earned dean's list honors.
From graduates, faculty
As it neared time for the processional to open the University of Delaware Commencement ceremonies, graduating students and faculty members shared their feelings about what the event means to them.
Doctoral hooding
It was a day of triumph, cheers and collective relief as more than 160 students from 21 nations participated in the University of Delaware's Doctoral Hooding Convocation held Friday morning on The Green.
NUCLEUS, the Network of Undergraduate Collaborative Learning Experiences for Underrepresented Scholars, began at UD in 1992 with a five-year grant from the Howard Hughes Medicate Institute (HHMI) to support undergraduate education in biological sciences. Part of the grant called on the University to develop a program to recruit and retain academically talented minority students majoring in the sciences. HHMI funds, which have continued through additional grants, also have supported undergraduate research and other programs at UD.
"The aim of NUCLEUS is to diversify the pipeline leading to graduate school and careers in the sciences," program coordinator Jacqueline N. Aldridge said. "We work with students on professional development and personal development, with a focus on peer mentoring and community building. This is not a student club; it's an academic program."
The year-end banquet included a talk by Patricia DeLeon, Trustees Distinguished Professor of Biological Sciences and a member of the University's Board of Trustees, who conducts research on reproductive genetics and is known for her involvement with students as a teacher and mentor. In 2009, she received a national Presidential Award for Excellence in Science, Mathematics and Engineering Mentoring.
Special awards of appreciation for their years of service to NUCLEUS were given to Harold B. White III, professor of chemistry and biochemistry and director of the University's HHMI undergraduate science education program, and to David Usher, professor of biological sciences and assistant director of the HHMI program at UD. Until NUCLEUS became part of the College of Arts and Sciences in 2010, it was administered within the HHMI program.
This year's graduating seniors represented a variety of majors and colleges: biological sciences, animal science, history, computer science, nursing, biochemistry, medical technology, chemistry, psychology, neuroscience and quantitative biology.
Article by Ann Manser
Photo by Kathy F. Atkinson