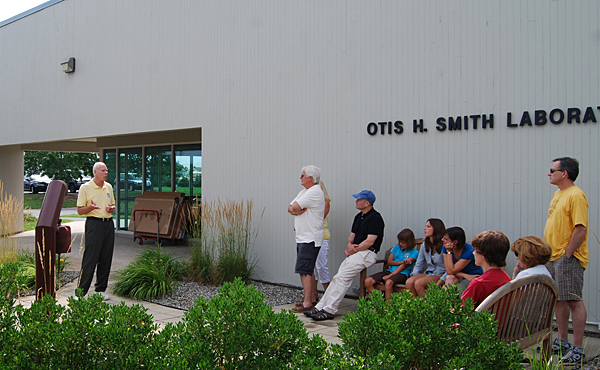 Free marine research tours
Lewes campus tours showcase ocean research
11:40 a.m., May 23, 2011--For anyone intrigued by the ocean or interested in a marine science career, a free tour of the University of Delaware College of Earth, Ocean, and Environment (CEOE) research complex in Lewes is the perfect summer activity.
Tour topics at the Hugh R. Sharp Campus include a broad variety of issues and solutions in marine and coastal environments: managing marshes and fisheries, harnessing wind energy, and coping with climate change and sea-level rise. Other subjects include marsh plants as biodiesel fuel, ocean-bottom geyser ecosystems, genetics in shellfish restoration, and functions of an oceanographic research vessel.
From graduates, faculty
As it neared time for the processional to open the University of Delaware Commencement ceremonies, graduating students and faculty members shared their feelings about what the event means to them.
Doctoral hooding
It was a day of triumph, cheers and collective relief as more than 160 students from 21 nations participated in the University of Delaware's Doctoral Hooding Convocation held Friday morning on The Green.
Tours begin with a 15-minute video showcasing ways in which CEOE and Delaware Sea Grant researchers explore the coastal environment in Delaware and throughout the world. Next, guides lead a walking tour of the research buildings, often including stops at the greenhouse, local fish and tropical reef tanks, as well as multiple posters and exhibits.
An interactive Google Earth display will often be available to touring groups. The display shows how scientists use satellite, surface, and underwater data to study the ocean environment. Visitors also will have an opportunity to learn about the University's wind turbine, currently powering the campus with clean energy and pointing toward a future of offshore wind power along the East Coast.
In the two-hour tour, led by UD's docent guides, the discussion is tailored to the interests of each visiting group, which may include kids ages 10 and up.
Tours take place from June until early September -- at 10 a.m. on Fridays in June and on Tuesdays and Fridays in July and August. Individuals can call 302-645-4346, no later than noon the day before, to reserve a place.
In addition to these summer public tours, the college hosts year-round private tours for groups of five or more people between 10 a.m. and 3 p.m. Monday through Friday. Schedule by calling 302-645-4346 at least one week in advance. The Hugh R. Sharp Campus, located at 700 Pilottown Road in Lewes, is accessible to disabled visitors.
Article by Elizabeth Boyle
Photo by Lisa Tossey