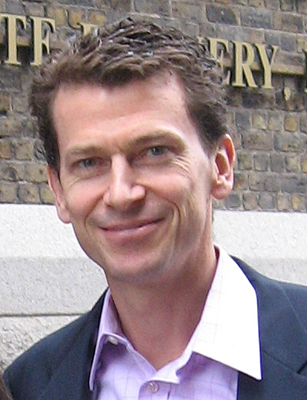 Lerner College announces new dean
Weber, top administrator at London Business School, to lead Lerner
10:36 a.m., May 2, 2011--Bruce W. Weber, an authority on information technology management and a top administrator at London Business School, has been named dean of the Alfred Lerner College of Business and Economics, effective Aug. 15.
"Bruce brings to the Lerner College administrative experience at a top-ranked business school and insight into how business schools teach and conduct research," said UD President Patrick Harker. "His is the kind of idea leadership we need at UD -- leadership that will improve business practice and develop our students into technologically savvy, global leaders."
From graduates, faculty
As it neared time for the processional to open the University of Delaware Commencement ceremonies, graduating students and faculty members shared their feelings about what the event means to them.
Doctoral hooding
It was a day of triumph, cheers and collective relief as more than 160 students from 21 nations participated in the University of Delaware's Doctoral Hooding Convocation held Friday morning on The Green.
Added Provost Tom Apple, "Bruce's experience teaching in Europe, the Middle East and Asia, and conducting research on IT in global financial markets will serve him well in leading the Lerner College to prominence."
Weber will succeed Bobby Gempesaw, who served as dean of the Lerner College for the past five years and recently accepted an appointment as provost and executive vice president of academic affairs at Miami University.
"I am delighted to be joining the Lerner College of Business and Economics as its next dean," said Weber. "The Lerner College has a solid foundation with vast potential to move to the next level. I look forward to working with the faculty, staff and students to further the college's progress and expand its contributions to business education."
Weber, who has served as professor of information management and founding area chair of management science and operations at London Business School for five years, teaches in the school's MBA, EMBA-Global, master's, and executive education programs. He joined London Business School as associate professor of information management in 2003. 
Since founding the management science and operations area in 2006, Weber has expanded the area from seven tenure-track faculty to 12 and designed a new pre-experience Master's in Management program in 2008.
During his time at London Business School, Weber also helped to expand the MBA class by 40 percent and launch three new degree programs, including one in Dubai and another co-taught in Hong Kong. The school also rose in several business school rankings and achieved the top position in the Financial Times rankings of global MBA programs.
Weber specializes in information technology management in the financial services sector and his research has contributed methods for valuing IT capabilities, measuring diffusions of new trading platforms, and identifying behavioral patterns in computerized markets.
His work has been published in leading academic journals and has been cited in the Wall Street Journal, The New York Times and the Financial Times. Weber is on the editorial boards of the Journal of Management Information Systems, MIS Quarterly and the Journal of Trading.
Prior to joining London Business School, Weber was associate professor of computer information systems and founding director of the Subotnick Financial Services Center, a 50-workstation markets education center at the Zicklin School of Business at Baruch College, City University of New York.
From 1992 to 1998, he was on the faculty of the Stern School of Business at New York University, where he received Stern's 1997 Excellence in Teaching prize.
Weber co-developed the trading simulation used in Nasdaq's 'HeadTrader' and in TraderEx, a markets education platform used in 15 leading business schools.
Weber holds a doctorate in decision sciences from the Wharton School of the University of Pennsylvania and a bachelor's degree in applied mathematics from Harvard University.
Article by Kathryn A. Marrone