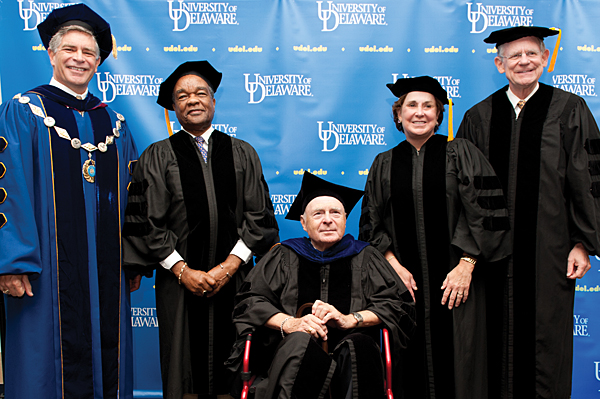 True distinction
Four receive honorary degrees
4:44 p.m., May 28, 2011--Four distinguished individuals were recognized with honorary degrees at the University of Delaware's 162nd Commencement ceremonies, held May 28 at Delaware Stadium.
 "The Honorary Degree is the highest honor bestowed by the University of Delaware and is reserved as a recognition of true distinction," Gil Sparks, chairman of the University's Board of Trustees, said.
From graduates, faculty
As it neared time for the processional to open the University of Delaware Commencement ceremonies, graduating students and faculty members shared their feelings about what the event means to them.
Doctoral hooding
It was a day of triumph, cheers and collective relief as more than 160 students from 21 nations participated in the University of Delaware's Doctoral Hooding Convocation held Friday morning on The Green.
Honorees and their degrees are
• Carol A. Ammon, founder and chief executive officer and chairman of Endo Pharmaceuticals Inc., doctor of science;
• Michael N. Castle, longtime political leader in Delaware, doctor of laws
• David C. Driskell, artist, scholar and curator, doctor of fine art; and 
• Richard F. Heck, Willis F. Harrington Professor Emeritus of Chemistry and Biochemistry at UD and 2010 Nobel laureate in chemistry, doctor of science.
Photo by Evan Krape