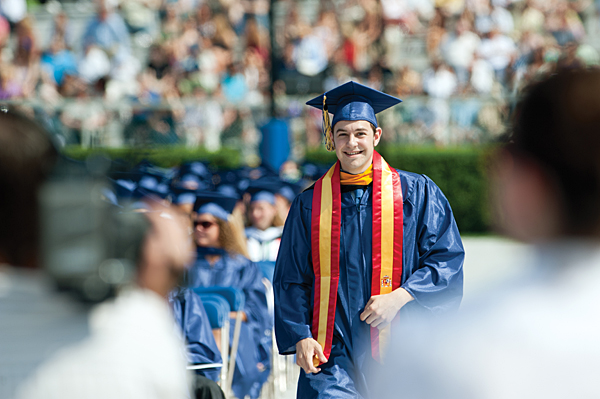 High grade point index
Graduating seniors recognized for achieving highest grade point indexes
4:48 p.m., May 28, 2011--Four graduating University of Delaware seniors have been recognized for achieving the highest grade point index earned in full-time study toward a University degree. Delaware Gov. Jack Markell made the presentation at the May 29 Commencement ceremonies in Delaware Stadium.
To be eligible, a graduating senior must have earned at least 75 percent of the total credits required for the degree at the University of Delaware and must have averaged a minimum of 15 credits per semester.
From graduates, faculty
As it neared time for the processional to open the University of Delaware Commencement ceremonies, graduating students and faculty members shared their feelings about what the event means to them.
Doctoral hooding
It was a day of triumph, cheers and collective relief as more than 160 students from 21 nations participated in the University of Delaware's Doctoral Hooding Convocation held Friday morning on The Green.
The 2011 recipients recognized for completing their studies with 4.0 cumulative grade point indexes were
Meredith Antionetta Bellezza from Lebanon, Pa., who received a bachelor's degree in fashion merchandising with a minor in business administration;
Matthew Thomas Binsted from Millville, Del., who graduated with a bachelor's degree in leadership and minors in philosophy and sociology;
Cecilia Sima Cole from Newark, Del., who graduated with a bachelor's degree in music education-instrumental, with a concentration in saxophone and a minor in jazz studies; and
Christina Alice Saadeh from Newark, Del., who graduated with an honors bachelor's degree in health sciences.
Photo by Evan Krape