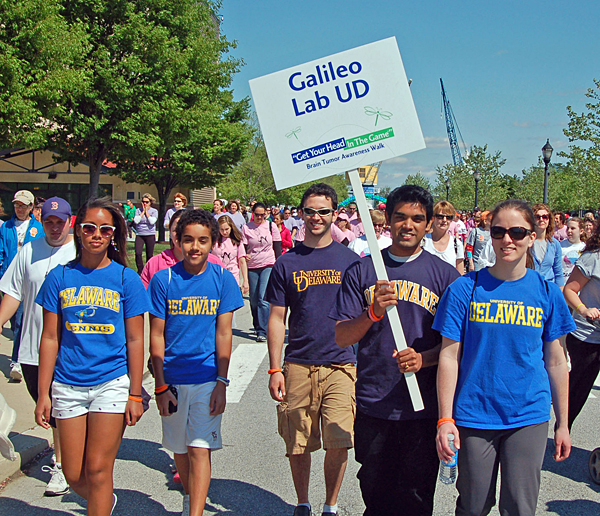 Battling brain cancer
Biological sciences group fights brain cancer in, out of lab
3:49 p.m., May 10, 2011--A University of Delaware research laboratory, the only group in Delaware to do basic research on brain cancer, also fought this deadly disease by participating in the 4th annual Kelly Heinz-Grundner Brain Tumor Foundation "Get Your Head in the Game" awareness walk held April 30 in Wilmington.
The UD research team of Deni Galileo, associate professor in the Department of Biological Sciences, raised more than $1,050 for the foundation. It was the second year the lab group participated.
'Resilience Engineering'
The University of Delaware's Nii Attoh-Okine recently published a new book with Cambridge University Press, "Resilience Engineering: Models and Analysis."
Reviresco June run
UD ROTC cadets will run from New York City to Miami this month to raise awareness about veterans' affairs.
Research in the Galileo lab focuses on the malignant glioma called glioblastoma multiforme, a type of cancer that arises from cells in the brain and spreads rapidly. This is the most common type of brain cancer in adults and the type from which the late U.S. Sen. Edward M. "Ted" Kennedy died. 
Galileo is a member of the Kelly Heinz-Grundner Brain Tumor Foundation Medical Advisory Board and says the walk is now an annual event for his laboratory.
"This is a rare event where we as lab researchers can see the potential impact of our research," Galileo said. "We seldom have occasion to see how so many people in Delaware and surrounding states are impacted by brain tumors. This event started by Chris Grundner, which attracts thousands of people, helps us see that. It also lets people know that there is a scientist and students right here in Delaware that are working to fight brain cancer." 
Chris Grundner started the foundation in memory of his wife, Kelly Heinz-Grundner, who died at the age of 31 of a glioblastoma multiforme brain tumor. Recently, the foundation merged with the National Brain Tumor Society (NBTS), the nation's largest non-profit organization serving the brain tumor community.