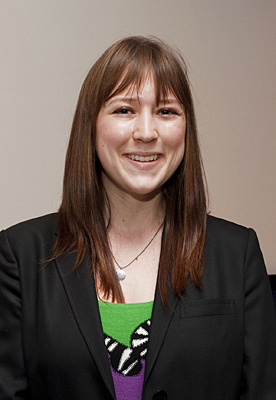 A foursome of Fulbrights
UD students win prestigious awards to study abroad
9 a.m., May 19, 2011--Four University of Delaware students have been selected to receive grants from the highly competitive Fulbright Program that will support their education at overseas institutions.
Graduate students Adrienne Harding in music, Devin Wardell in fashion and apparel studies and Corinne Weidinger in art history and undergraduate Kimberly Stevenson in biological sciences have been selected for the 2011-12 program. Each will travel to a different country in Europe or Asia.
Fulbright awards
Three University of Delaware students and an alumna have received word this spring that they will travel abroad as part of the newest class of Fulbright Student Program award winners.
Peace Corps plans
Two University of Delaware students, John McCarron and Bridgette Spritz, have been selected as Peace Corps volunteers and will serve in Ghana and Rwanda.
The Fulbright, established in 1946 and now operating in 155 countries worldwide, is considered the flagship international educational exchange program sponsored by the U.S. government. It sends American scholars, professionals, students and educators to other nations to study, conduct research or teach and provides similar opportunities for students and scholars from abroad to come to the U.S.
Kimberly Stevenson
Stevenson will attend the University of St Andrews in Scotland, where she will pursue a master of research in medicine degree and will work with orthopedic surgeon James Robb and Prof. Peter Donnelly, studying hip dislocation prevention and treatment in children with cerebral palsy (CP). The United Kingdom is the most popular and most selective Fulbright destination.
"Having the rare chance to work with a renowned orthopedic surgeon on work so important to me is once-in-a-lifetime," Stevenson said. A student in the University Honors Program, she has conducted undergraduate research at UD focused on orthopedic issues seen in children with CP. The work means so much to her, she said, because her younger sister has CP.
In addition to her passion for her research topic, Stevenson said she expects her experience as a Fulbright Scholar to bring personal and career benefits.
"Throughout my undergraduate research experience, I have realized how important collaboration is, and I wanted to have the chance to experience international collaboration myself before entering medical school [at Georgetown University in 2012] so that I could view medicine through an international lens," she said.
"I hope to be part of international collaboration as a physician, and that is what the Fulbright is all about—collaboration and sharing between cultures and countries."
Adrienne Harding
Harding, a supplemental faculty member who earned bachelor's and master's degrees in music as a flute performance major at UD, will continue her studies in Austria.
In an interdisciplinary project combining her experience as a professional musician and her ballroom dance training, she will study the implications of 18th century social dance as it pertains to musical pedagogy. She said she the experience will give her access to the rare Derra de Moroda dance archives, specialized music and dance pedagogy coursework and period dance classes at Musikum Salzburg, combined with a part-time English teaching assistantship at a secondary school.
 "I am looking forward to the cultural immersion, having access to noted scholars and archives and developing relationships with fellow Fulbrighters, students and citizens of Austria," Harding said.
In addition to the educational opportunities, she said she already has experienced personal growth through the Fulbright program: "In accepting the risk it takes to leave the comfort of home for new surroundings, culture and a foreign language, my perception changed about my limitations."
Devin Wardell
Wardell is pursing the Department of Fashion and Apparel Studies' graduate certificate in Socially Responsible and Sustainable Apparel Business, which addresses labor and environmental problems in the global supply chains for the apparel, textile and footwear industries.
She will travel to India, where she will partner with a professor at the National Institute of Fashion Technology in New Delhi to conduct research on the handcraft development projects under way there. Her particular focus is on handloom textiles.
"I will study how effectively hand-weavers in Madhya Pradesh, India, have utilized these resources and how the resources may be enhanced to provide even greater value," she said.
Noting that a requirement for receiving a Fulbright is to have "a passion for your topic," Wardell said she is looking forward to "fulfilling my lifelong dream of working with handloom weavers and establishing the groundwork for my career."
Corinne Weidinger
Weidinger received a nine-month grant to conduct research in Belgium for her doctoral dissertation. She will spend time in Brussels and also will travel to Charleroi in the southern part of the country.
Her dissertation, "Labor, Technology and the Body: Representing Mine and Factory Work in Wallonia, 1880-1905," examines works by the Belgian artist Constantin Meunier and the French painter Maximillien Luce. The artworks depict miners, factory workers and industrial landscapes in Wallonia, which is the southern, French-speaking region of Belgium.
Weidinger said the artworks she is studying "communicate contradictory messages on pollution, fatigue, occupational diseases and degeneracy."
The Fulbright will enable her to observe primary sources in archives, libraries and museums in Belgium.
Article by Kayla Codina and Ann Manser
Photo by Kathy F. Atkinson