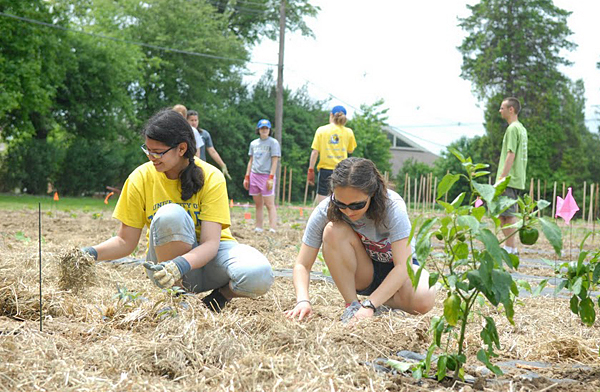 May 13-14: Community garden planting
Volunteers needed to plant Garden for Community
11:54 a.m., May 11, 2011--Volunteers from the University of Delaware and the Food Bank of Delaware will plant a Garden for the Community from 10 a.m.-5 p.m. on Friday, May 13, and from 9 a.m.-2 p.m. on Saturday, May 14.
The planting will take place in the front of the Wilson Farmhouse, which is directly behind the Girl Scouts facility on Route 896 in Newark.
June 5: Blue Hen 5K
University of Delaware graduates planning to attend Alumni Weekend are encouraged to register for the annual Blue Hen 5K walk and run, which will be held Sunday morning, June 5.
June 6-9: Food and culture series
The 20th annual June Lecture Series at the Osher Lifelong Learning Institute at UD in Wilmington will be held June 6-9. Titled 'June a la Carte,' this year's program focuses on great political documents, feminism, world politics and a Newark cuisine sampler.
Located on one-third of an acre on the University of Delaware's College of Agriculture and Natural Resources (CANR) campus, the garden provides a steady stream of fresh vegetables, herbs and fruits to Delaware's hungry.
During 2009 and 2010, the Garden for the Community produced more than three tons of fresh produce for the Food Bank of Delaware's hunger-relief efforts. The hope is to have an even more bountiful harvest in 2011.
The Garden for the Community project is a partnership between the Food Bank of Delaware and the CANR faculty and staff, undergraduate students and graduate students.
The rain dates for the plantings are Friday and Saturday, May 20 and 21, taking place at the same times.
For more information or to volunteer, visit the Garden for the Community website or email commgard@udel.edu. If volunteering, indicate the date on which you would like to participate.